When it comes to 6 month old puppies, you have to pick your battles.  At the tender age of just 2 months, my puppy Fenrir apparently declared all things paper to be his mortal enemies.  He loves (almost) nothing more than destroying cardboard boxes, junk mail, basically anything paper. 
Having owned house rabbits for over 10 years now, paper shredding is pretty status quo in our house.  Fenrir never actually eats the paper, just shreds it.  Most of the boxes/papers he shreds he gets out of our paper recycling bin in the kitchen.  The other day Fen got his teeth on some junk mail, and I couldn't resist snapping a few photos before cleaning up.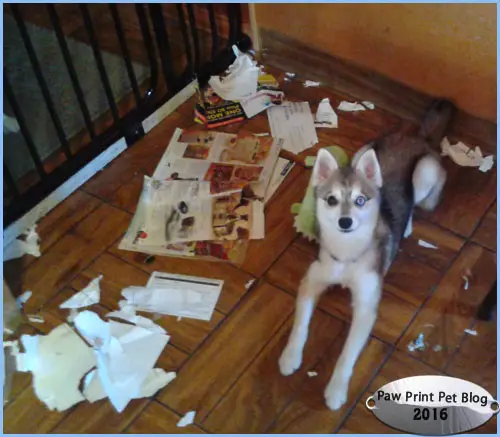 I was (sort of) joking with my fiance when I showed him these pictures.  If Fenrir's paper hobby continues, we'll never need to buy a paper shredder!
Do you have a pet that likes to shred paper?  When my older dog, Kitsune, was a puppy he loved stealing toilet paper.  He'd grab the end of the roll and run around the house, essentially TPing our entire apartment.  I wish I had thought to take pictures then!  Silly pups.