I hope everyone is having a great week!  I normally like to post subscription box reviews on Fridays, and try to get my posts out earlier in the day, but I've been sick for going on two weeks now.  I'm finally feeling well enough to get on the computer and get some work done, but I've spent most of this week so far sleeping.  I have so much to catch up on now!  Valentine's Day, also my fiance and my anniversary, was last weekend, but because I was sick we didn't do anything fun to celebrate.  Luckily the pups got their Pet Gift Box on Saturday, so they at least had some new toys to play with!
We always look forward to finding out what the Pet Gift Box theme is each month.  This months theme was "Share the Love", fitting since we got our box just in time for Valentine's Day.  Each month we receive a Pet Gift Box for a 20 lb dog, but they also cater to large dogs and cats!  If you're interested in seeing what we've received in the past, you can see a list of all our Pet Gift Box Reviews here.  Here's what we got this month...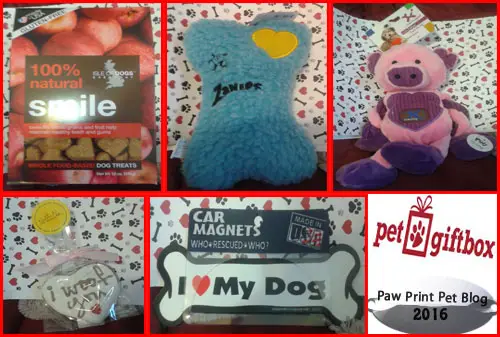 Isle of Dogs Smile Treats:  We got a 12oz box of Smile treats, which are shaped like adorable little hearts.  More importantly, they are made in the USA from 100% natural ingredients.  Both my dogs like these treats.  Kitsune is especially fond of them, and starts bouncing around like a puppy every time I open the box.
Zanies Embroidered Berber Bone:  I gave this toy to Fenrir because blue is his color, and he also has this adorable habit of using his toys as pillows.  This one looks like it'd be a comfortable pillow.  He's been playing with it quite a bit and so far it seems durable.
Charming Pet Love Pulleez Cutie Pie Pig:  Cutie Pie Pig really is cute, and the fabric is really soft.  The arms of the toy can be pulled from one side to another.  I gave this toy to Kitsune since Fen got the bone.  Kit's been carrying it around and snuggling with it more than actually playing with it, which is completely adorable.
Bubba Rose Biscuit:  Next up we got a Bubba Rose frosted dog cookie that says "I woof you" on it.  We've gotten these cookies quite a few times in subscription boxes now and Fenrir seems to enjoy them.  They contain eggs so Kit can't try them, but they are really cute and make great gifts if your dog can't eat them.  I've given a few away to friends with dogs and they always get a kick out of them.
I <3 My Dog Car Magnet:  Lastly we got a car magnet that says "I <3 My dog".  Also works as a fridge, locker, etc magnet if you don't want to stick it on your car.  For now I just have this on our fridge, fitting since I also have pictures of the boys all over our fridge.
The toys in this box were made in China.  The treats and magnet were made in the USA.
There you have it, another fun box from Pet Gift Box!  Make sure to check out their website if you want to learn more or get your own box.