With all the craziness - being sick and working with my two crazy pups, it's been awhile since I last posted anything about Barnaby.  I talked about him a bit in a post from last month, and in our 2015 review, but not much since.  I've received a couple of questions about Barnaby lately, and figured an update on him is past due.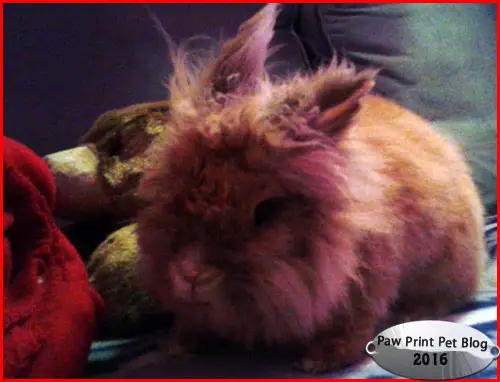 Another reason I was a bit hesitant to post a lot about Barnaby was because, since Poppet's death back in December, I have been quite worried about him.  When spayed/neutered rabbits live together they often form very close bonds, as was the case with Barnaby and Poppet.  They spent most of their time snuggling and grooming each other.  Barnaby doted 24/7 attention on his lady friend and, understandably, did not take her death well.
I was, quite frankly, very worried that I'd have to announce Barnaby's passing not long after Poppet's.  He's no spring chicken, and his health took a turn for the worse right after Poppet passed.  He wasn't eating well, and developed an upper respiratory infection.  It was the first time in 9 years that Barnaby's been sick.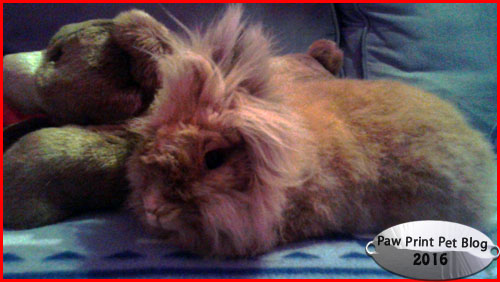 Luckily his antibiotics did their job and slowly but surely Barnaby's healthy appetite returned.  He's doing quite well now - eating like a king, playing with his toys, and running around his room every night.
A couple of people have asked if I have any plans of adopting a new friend for Barnaby.  At the moment, I do not.  Barnaby seems pretty content to have his room to himself.  I know that he enjoys the company of other rabbits, but I don't feel ready to adopt another.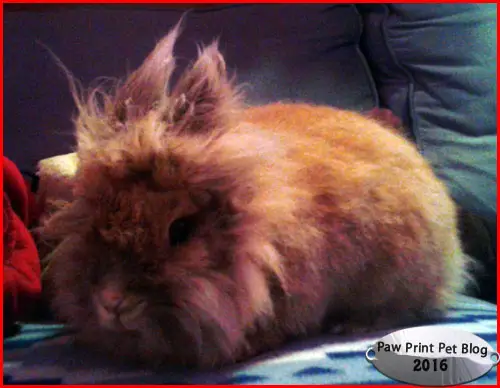 There are also benefits to having a single rabbit, especially a senior one.  When the food bowl is empty, I know exactly who ate what.  I can better monitor Barnaby's bathroom habits, something that's important to keep an eye on when you have a rabbit.  I don't know if this is something I'll eventually change my mind about, but for now I'm planning on keeping Barnaby as a single bunny.
But don't worry! Now that he's feeling better, he's happy!  At least once a day, usually more often, I let the dogs have supervised visits with him and, of course, I spend time with him everyday as well.  He doesn't seem lonely.  His favorite thing is still watching tv, and besides having his own tv in his room we also let him out in the living room about once a week for movie night on the big tv.
I'll try to post Barnaby updates more often.  Of course I still spoil Barnaby and the geckos, but my life has felt a bit (ok, maybe more than a bit) dog centric lately and I think this blog has been reflecting that.  I apologize to all my Barnaby fans - look for more Barnaby posts in the future!  For now, it's time to walk the dogs!