Last Sunday was the first day of spring!  I don't feel too bad about wishing you all a happy spring a few days late, since the first day of spring here didn't feel much like spring.  The weather has been so weird lately.  A couple of weeks ago we had a day when the temperatures got to 80*f but Sunday, on the first day of spring, it snowed!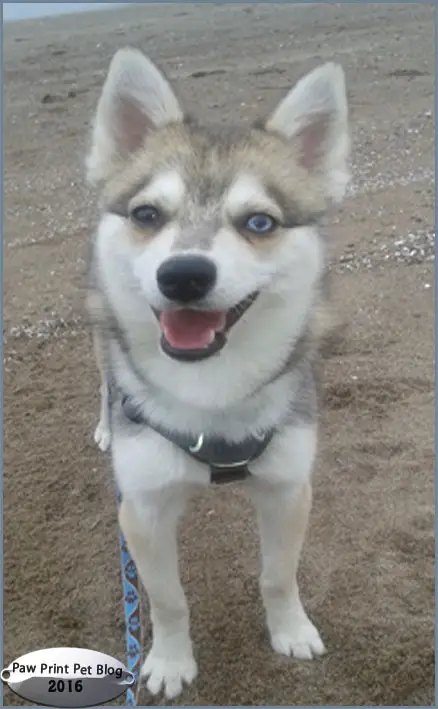 My fiance, the dogs' 'dad', returned home safely from his business trip.  The dogs - especially Kitsune - were so happy when he got back!  His timing was perfect too.  He got home late Saturday evening.  Just in time to celebrate the first day of spring with us.
We don't celebrate Easter, but the 'big bunny' comes to our house and leaves goodies for everyone to enjoy on the first day of spring.  We didn't go overboard this year, but Best Bully Sticks was having a pretty good sale so the pups got a couple bags of chews.
Hopefully no one gets sick of us posting beach pictures.  The beach is Kitsune's favorite place to visit, and Fenrir is quickly becoming a big fan as well.  Sitting on the rocks with my fiance, listening to the waves while the dogs play in the sand, is so relaxing.
Kitsune is sporting a new furstyle.  I gave him his spring haircut the other week, thinking that we were pretty much over having really cold weather.  Luckily the snow we got seemed to be kind of a freak thing.  The weather warmed up, melting the snow, pretty quickly.  Worst case scenario Kitsune actually doesn't mind wearing clothes to keep warm.
Kitsune really just melts my heart.  I will have to write a post dedicated to him sometime soon because if I get started here my "wordless" Wednesday post will end up being more of a novel!  But as a quick update, Kitsune is doing very well.  He's been having a lot of fun playing with Fenrir and enjoying the (mostly) nicer weather.
I guess that's it for now.  Hopefully no one gets too annoyed that my "wordless" Wednesday posts are always so wordy!  I've kind of gotten into the habit of turning them into updates about the pets.  Maybe I'll try going back to writing update posts and attempt to keep my Wednesday posts a little (or a lot) more wordless.
Anyways, thanks for reading!  I hope everyone has an awesome week.  Happy Easter to everyone who will be celebrating it this weekend.