Happy Monday!  I hope everyone had an amazing weekend.  Today, along with our A to Z challenge post, I have some info about a pet subscription box to share.  Pet Treater is a newer pet subscription box company that offers boxes for small, medium, and large sized dogs.  Last week we received a small dog Pet Treater box and had a lot of fun opening it.  Read on to see what we got, and how you get a Pet Treater box for your furry friend!
The first thing I noticed when our Pet Treater box got here was how big it was!  It was quite large, especially compared to other boxes we've reviewed in the past.  But, of course, bigger doesn't always equal better, so the pups and I were eager to see what was in our box!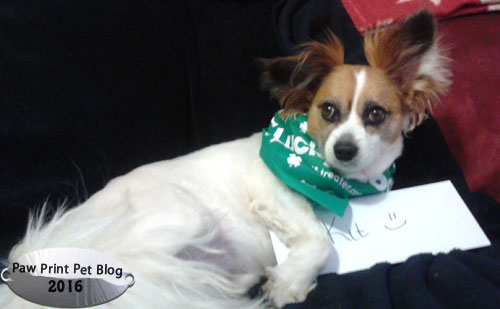 The box we received was Pet Treater's March box, which was "You Lucky Dog" themed.  Besides the gifts in the box, we got a cute letter addressed to Kit, a treat coupon, and an insert about Pet Treater's featured animal rescue of the month.  Pet Treater's Pet Partners Program helps to raise awareness for animals awaiting new homes in shelters.
We also received a Pet Treater bandana that went along with the theme of this month's box.  Getting gifts for our pets is always fun, but Pet Treater sends a little something for the humans too!  I got a neon orange tumbler that I'm sure will see plenty of use in our house.  Now let me finally go over what the dogs got...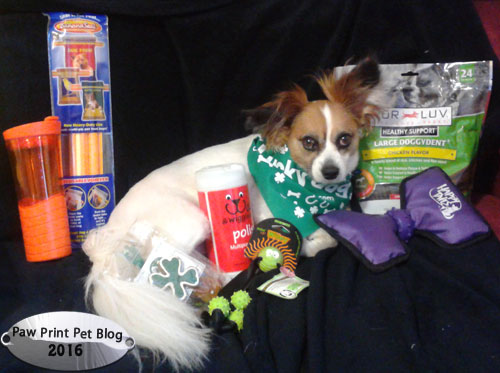 Wags & Wiggles pet wipes:   These raspberry scented wipes have a light, pleasant odor.  My fiance and I got a kick out of the fact that they're called "Polish"- dog polish!
Emmy's Gourmet Canine Creations treats:  We got two of these treats, one shaped like a clover and the other a bone that said "lucky dog" on it.  We got two cookie flavors, but I couldn't really tell which flavor was which.  One of them contained eggs, which Kitsune can't have, so these went to Fen.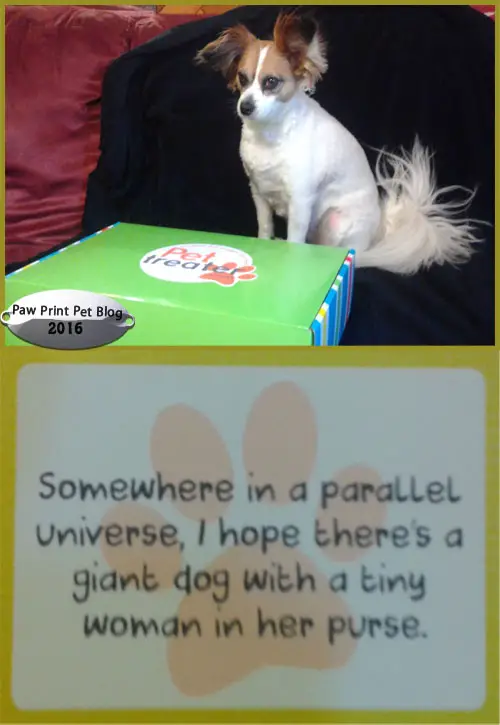 Mini Wiley toy:  This unique toy is created by HuggleHounds.  It's made of rubber balls connected together by nylon.  The largest ball has a spot on the back where you can put kibble or small treats.
Happy Tails Tuff Toy:  This toy looks like a bone or a weight.  It's a tough fabric toy with a rubber ring in the middle.
Pur Luv Large Doggydent chews:  These chews are chicken flavored, so Kitsune can't have them, but Fenrir can.  We got a large (24 oz) bag of these chews, which promote doggy dental health, and contain ingredients to support your dog's healthy skin and coat, and digestion.
Banana Seal:  I thought this was a cool addition to our Pet Treater box.  I had never heard of Banana Seal before, but it can be used to seal pet food bags.  There were two Banana Seals in our pack and they are the perfect size to seal Kitsune's food bag...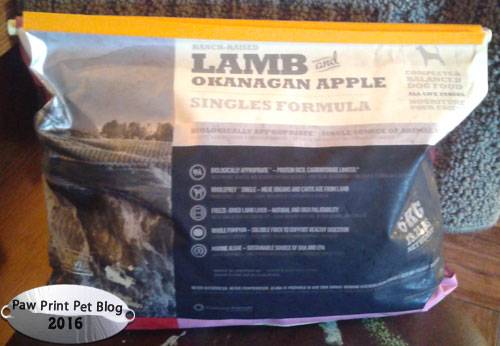 We had a lot of fun with our March Pet Treater box!  I especially liked the verity of the type of items, and the fact that we received dog supplies other than just your typical treats/toys.  For anyone concerned, the toys we received were made in China, but the treats were not.
Interested in getting a Pet Treater box for your dog?  Prices start at just $19.99 per box depending on what payment plan you select.  If you're signing up with Pet Treater for the first time, you can use the coupon code PAWPRINT-BED to get a free pet bed with your first box!  We got a free pet bed with our subscription box, and it's a really nice/high quality bed.  If you don't need a new pet bed, you can use the code PAWPRINT-5 instead to get $5 off your first box.  The coupon codes can't be combined, so you'll have to pick one or the other.
Do you currently subscribe to any pet themed boxes?  If you try out Pet Treater for yourself you'll have to stop by and let us know what you think!
We received our Pet Treater box for free in exchange for our honest review.  As always, we only share items we feel will be of interest to our readers.  This post contains affiliate links.