Don't put all your eggs in one basket...especially when you live with a mischievous puppy!
If I had thought of our snacking from A to Z theme during last year's April challenge, you wouldn't have seen eggs on our list.  Last year Kitsune was our only dog, and he's allergic to eggs.  We got Fenrir last September, and luckily he doesn't have any food allergies - so E is for eggs!
How to Feed Eggs
Under normal circumstances, dogs can eat raw eggs.  Raw feeders commonly feed whole eggs - shells included.  If you choose to feed eggs raw, make sure to do so in moderation.  Too many raw eggs in your dog's diet can causes digestive upset.
If you don't feel comfortable feeding eggs raw, you can, of course, cook them.  Once in awhile I'll mix a bit of plain, scrambled egg into Fen's regular food as a special treat.
The way I offer eggs to Fenrir the most is as an ingredient in dog treats!  Many dog treat recipes call for eggs, and lots of commercial treats contain them as well.  So do many commercial dog foods.  In fact, you might already be feeding your dog eggs on a daily bases and not even realize it!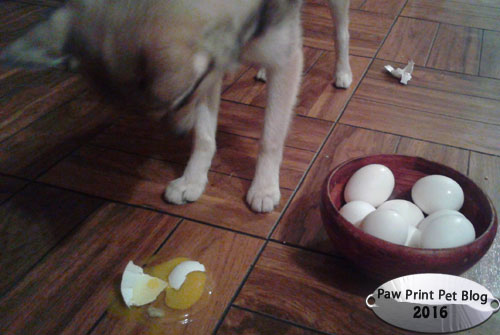 What are the Benefits of Feeding Dogs Eggs?
If you feed egg shells, they are a great source of calcium.  The insides of eggs are full of protein, selenium, riboflavin, vitamin A, vitamin B12, Iron, selenium, and fatty acids.  Eggs are often touted for being beneficial for dog's skin and coats.
Remember to feed eggs in moderation and always talk to your vet if you are concerned about feeding your dogs new foods.  Does your dog like eggs?  Thanks to Kitsune, checking labels and making sure to avoid eggs became habit.  Sometimes you don't realize how common an ingredient is until you have to start avoiding it!
I'm glad Fenrir can enjoy eggs, although we still have to be careful to keep them away from Kitsune.  Even if you don't make an effort to feed your dog eggs, be thankful if he/she isn't allergic to them!  Eggs are full of beneficial nutrients, and they are a very common ingredient in dog foods/treats.
This post is a part of the 2016 Blogging from A to Z challenge!  You can learn more about our challenge theme here.