If the Jolly Green Giant had a jolly pet dog, do you think he'd feed him green beans?
Because green beans can be awesome low calorie, nutrient packed snacks for dogs!  Amazingly, my 8 month old puppy, who normally doesn't view anything green as food, enjoys green beans.  My older dog, Kitsune, loves green beans so much that he'll go nuts begging for some when he notices me cooking or eating them.
Now I have green beans all over my kitchen floor - but I also have photographic evidence that my pup, Fenrir, will occasionally eat something green.  As an aside, frozen green beans apparently make awesome toys for puppies as well.
Why Green Beans?
Besides the fact that both my dogs really enjoy eating them, green beans are a great low calorie snack.  They seem to be quite popular with owners of overweight pooches.  Green beans are high in fiber and can help your dog feel full, but they don't add  a lot of excess calories to the diet.  For this same reason, if your dog enjoys them enough, green beans can be used as treats in place of higher calorie foods.
Green beans are also a great source of vitamins C, K, A, and manganese.  Vitamins K, C, and A all have antioxidant properties.  It's well known that vitamin C and help boost the immune system, and it's also good for maintaining healthy blood pressure.  Vitamin K promotes healing, and regulates the way your pet's blood clots.  Magnesium helps the body to properly absorb other needed nutrients, such as calcium and vitamin C.
How to Feed Green Beans
The lazy person in me loves the fact that green beans can be fed plain, fresh, frozen, or canned.  If you opt for canned green beans make sure they are plain, ie that they don't contain any added salt.  As humans most of us probably appreciate a little seasoning on our green beans, but dogs should eat them plain.
I'm going to link to my post on dehydrated treats again because, as I mentioned in that post, Kitsune really enjoys dehydrated green beans.
Both my dogs like frozen green beans.  It doesn't get much easier than that!  Remember, though, that dog's digestive systems weren't designed to fully digest plant fiber.  Feeding green beans whole is fine, but cooking or blending them helps to break down their cell walls, and makes all the awesome nutrients they contain easier for your dog to digest.
Any Precautions?
If you've read any of my other posts for this challenge you know what I'm going to say here....say it with me...Moderation!  Replacing part of your dog's diet with green beans can help him to loose weight, but green beans do not contain all the nutrients needed to keep your pet healthy long term.  You want to make sure your dog gets enough of his regular food that he's still getting all the nutrition he needs.
The reason green beans help dogs to loose weight is, as I mentioned above, they are high in fiber but low in calories.  They can help your pooch to feel full, but they also add a lot of bulk to the diet.  Don't be surprised if, after feeding green beans, you notice more...bulk...coming from the other end of your dog.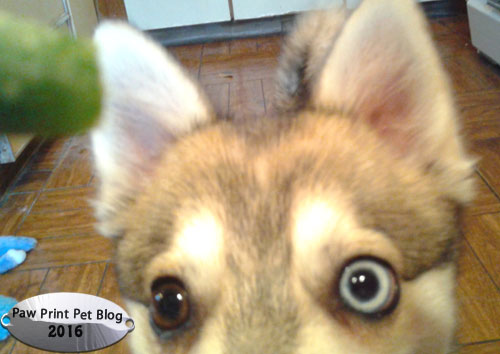 If you need a food to convince your puppy to eat his vegetables, are trying to help your dog loose weight, or are just looking for new foods to make meal times more exciting, why not give green beans a try!
This post is a part of the 2016 Blogging from A to Z challenge!  You can learn more about our challenge theme here.