Happy Friday!  For any newcomers who might have missed all our previous Pooch Perks reviews, Pooch Perks is a monthly dog subscription box.  Prices start at just $20 per month for the Pennywise Pooch plan, and boxes come in two sizes (small and medium-large) based on your dog's weight.  Because both of my dogs are under 35 lbs, our reviews are for the small dog boxes.  
The Pooch Perks theme for April is "Barnyard Party"!  Sounds like a fun theme to help kick off spring!  We receive the Pampered Pooch upgrade box.  This is what we got in our box...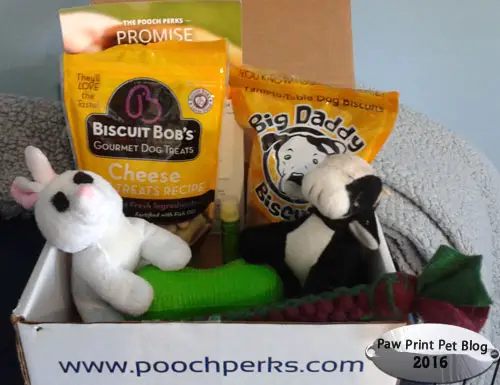 Flavored Sprays Dog Food Topper:  Bacon flavored dog food spray!  This spray is made in the USA from all natural, human grade ingredients.  It adds 150 mg of Omega-3s per 10 sprays.
Big Daddy Biscuits: We got a 7.5 oz bag of Turkey Bacon Bites from Big Daddy Biscuits.  These treats are also made in the USA.
Biscuit Bob's Gourmet Dog Treats: Next up we got a 8 oz bag of cheese flavored biscuit treats.  These are, again, made in the USA and are free of wheat, corn, soy, artificial colors, flavors, and preservatives.  Kit especially has been really enjoying these treats!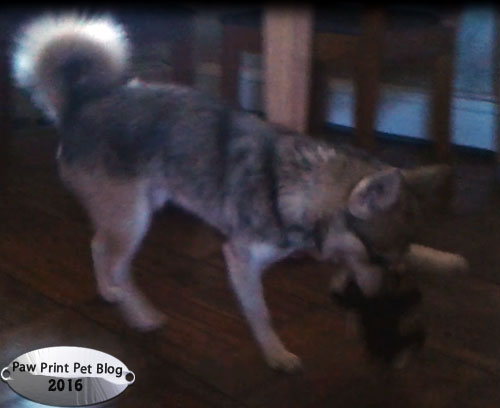 Farm Animal Themed Toys: Next up we got two plush toys, a rabbit and a cow.  I couldn't find the exact toys we got to link too here.  I let Fen play with the cow for a bit but he pulled the eyes and ears off pretty quickly.  So these aren't the most durable toys, but they are cute and Fen seems to think they are a lot of fun.
Tug Toy: The tug toy we got didn't have any tags on it, but it looks/feels like it's made from fleece.  Fen has been having fun with it and so far it does seem to be durable.  It even held up well in the wash.  The insert that Pooch Perks included in our box says this toy is made in the USA.
RuffDawg Wee-Nut:  This toy is also made in the USA.  When we first got it it had a very strong, although not unpleasant, smell.  It seems to have aired out over time and doesn't smell as strongly now.  This toy has a hole in it where you can stick treats.  The hole is small which makes it harder for dogs than getting treats out of a kong, for example.  In our case I feel like this is a good thing, because it keeps my dogs busy for longer.
Opie & Dixie Snoutstik:  These organic snoutstiks come in different scents - we got rosemary.  It's USDA certified organic and made in the USA.  With the warmer weather coming up I'm sure we'll get lots of use out of this product.
There you have it - our April 2016 Pooch Perks box!  I appreciated that almost all of the items included were made in the USA (the plush farm animal toys were the only items that weren't).  For anyone interested, Pooch Perks does offer a Patriotic Pooch box that contains only items made in the US.
Interested in trying out Pooch Perks for yourself?  Head on over to their website and use the coupon code "PawPrintPet" to get 25% off your first order!
We received our Pooch Perks box for free in exchange for our honest review.  As always, opinions expressed are our own and we strive to only share products we feel our audience will enjoy.