This will probably be the boys least favorite day of the A to Z Challenge!
Because N is for nothing.  The A to Z Challenge is half way over, and I have to admit I've been feeling a bit worn out lately.  On top of working on 6+ blogs a week, working on other blog related things (editing videos, etc), work has been giving me extra hours, and I have a couple of crafting projects I need to finish by the end of next week.  Plus, I can't slack when it comes to taking care of the pack.
I had a hard time coming up with a dog friendly snack that starts with N.  I was going to create an original treat recipe, but time got away from me.  I've been cooking up a storm for the dogs lately, and honestly it was really nice to take a break!  This past week alone I made them bone broth, liver treats, Jello treats, and oatmeal pumpkin treats.
We still have lots of treats here for the boys, so don't feel bad for them.  Kitsune is suppose to be on a diet!  It doesn't help things any that Fenrir is a picky eater, so Kitsune often ends up eating the treats I give him and the treats that Fen drops.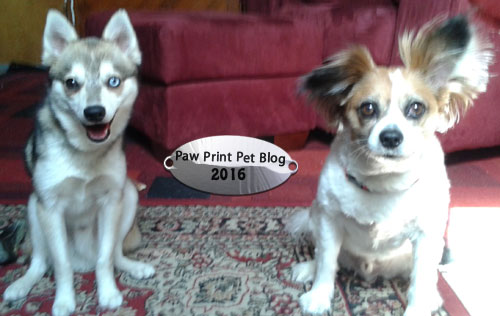 I think for the rest of the weekend we're all going to try to eat healthy and relax.  Hopefully no one minds too much that we kind of cheated on the A to Z challenge today.  Thank you so much to everyone who has been reading and commenting on our posts so far!  Just 12 more posts left to complete the challenge.
This post is a part of the 2016 Blogging from A to Z challenge!  You can learn more about our challenge theme here.