Today's Food Might Be a Bit Controversial...
Not everyone agrees on whether dogs should consume grains such as rice.  It's a common filler in commercial dog food, but one that dog owners are increasingly looking to avoid.  With raw and grain free diets becoming more popular, rice is becoming less so.  Yet those of us with dogs who have sensitive stomachs, like my Kitsune, know that plain rice, possibly mixed with meat, can make a palatable but bland meal that can help our dogs get over GI upset.
Why Rice?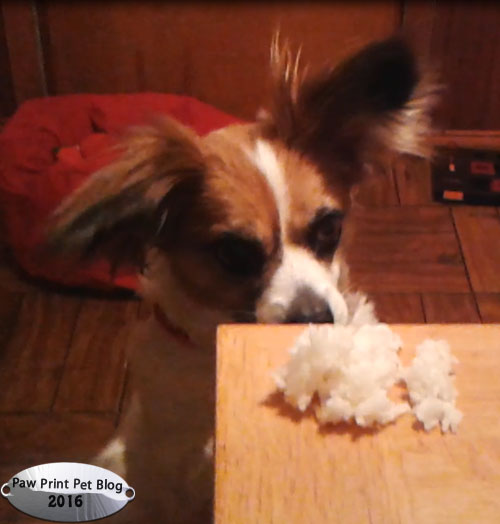 Rice, white rice especially, is easy to digest.  As mentioned above, many owners use it as a 'go to' food for dogs who are experiencing GI upset, notably diarrhea.  Because it's cheap, easy to cook, easy for dogs to eat, and usually well tolerated, rice can be a helpful addition to the diet of dogs who are sick or elderly.
Brown rice is higher in protein and nutrients when compared to white rice.  However, it's also coarser, harder to digest, and some dogs don't seem to like it as much as plain white rice.
Precautions
Dogs can be allergic to grains, including rice.  For dogs who are not allergic, rice is a safe diet addition, but it shouldn't make up a large percentage of the diet.  Rice is fine as an addition to a home made diet, an occasional snack, or as part of a bland diet for a sick pup, but it doesn't contain enough nutrients to keep a dog healthy long term and should not be fed exclusively.
This post is a part of the 2016 Blogging from A to Z challenge!  You can learn more about our challenge theme here.
What do you think?  Do you ever feed your dog rice?  Does he/she like it?  My puppy isn't a huge fan of rice and usually won't eat it, but Kitsune actually really seems to enjoy it.