It's nice to work on a post that isn't for the A to Z Challenge!  The challenge has been fun, but I haven't had a ton of time to blog lately so haven't been able to get many posts up other than the challenge posts.  Last month we got to review the March Pet Treater pet subscription box and really enjoyed it!  Today I'm going to share what we got in our April box.
Just to go over the details real quick, for anyone who missed our March box review, Pet Treater is a pet subscription box company that offers monthly goodie boxes for small, medium, and large sized dogs.  Prices start at just $19.99 per box, depending on what payment plan you select.  With each purchase Pet Treater makes a donation to help shelter pets.
April's box theme was Wet & Wild!  Like our March box, our April box came with an adorable letter addressed to Kit, coupons, and inserts about Pet Treater's featured animal rescue of the month (Operation Education Animal Rescue in Christiana, TN).  Here's the other stuff we received in our box...
Wetnoz Quax Toy: This long lasting silicone chew toy is shaped like a duck.  This would have been great when Fenrir was teething!
Sentry Petrodex Dental Spray:  I always love when subscription companies send grooming products.  Dental spray would be especially helpful for dogs who don't like getting their teeth brushed.
Bacon Flavored Omega 3 Spray: We actually also received this product in our last Pooch Perks box.  I was happy to get more because Kitsune LOVES this stuff.
Pur Luv Mini Sizzlin' Strips: I think these treats were an extra addition to the box.  They have a sticker on the bag that says "Bonus Repeat Treats".  They look like hard strips of bacon but are made of chicken and sweet potato.
Cobble Creek Plaque:  I love how Pet Treater sends a gift for the human each month too.  This month they sent a really cute plaque with the saying "Wag more bark less" on it.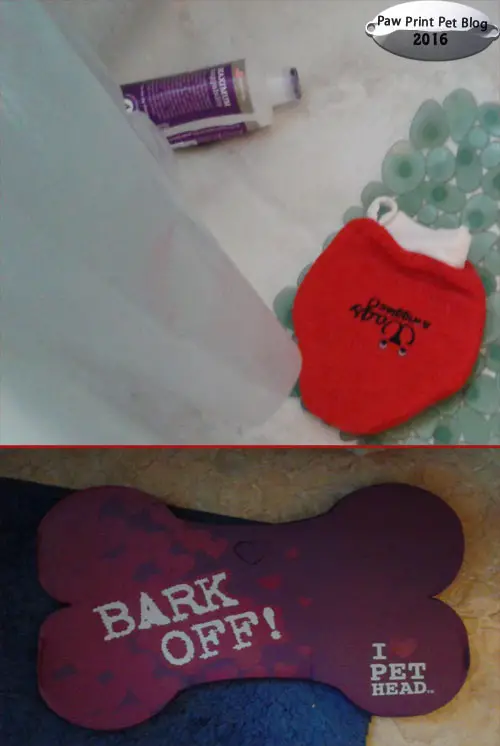 Wags & Wiggles Massaging Bath Mitt: This bath mitt feels like a towel on one side, and has soft plastic massaging bristles on the other.  I bathe my dogs a lot, so already got some use out of this.  The dogs seemed to enjoy it.  Fenrir isn't shedding much at the moment, but I'm excited to try this on him when he starts shedding again.
Pet Head Cushioned Kneeler:  The Pet Head knee saver is designed to cushion your knees while you bathe/groom your pets.  I have a bad knee, and our bathroom floor isn't very comfortable to kneel on, so this product really came in handy!  Just make sure to keep it away from mischievous puppies, because the foam is kind of soft and Fenrir was able to easily bite a chunk out of our kneeler.  He "customized" it.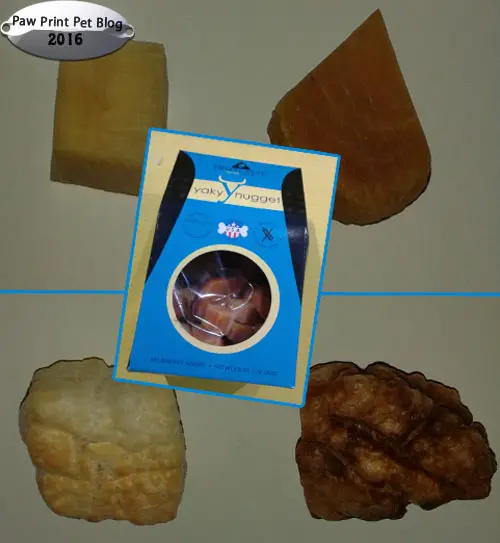 Yaky Nuggets: Kitsune LOVES these!  He's always been a big fan of Himalayan chews, but this was our first time trying the Yaky nuggets.  They are small and very hard, but when you put them in the microwave for 40 seconds they puff up.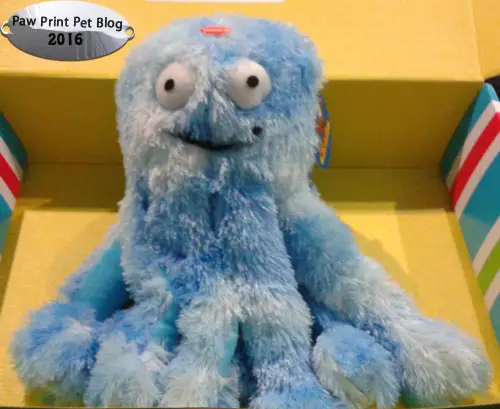 Party Pets Blue Octopus: I couldn't find this guy online, but it's a really soft, large, plush octopus toy.  Fenrir is especially fond of this guy!  He's been dragging him around the house, swinging him around by the tentacles when he's feeling playful.
Like last month's box, the toys in April's box are made in China but the treats, the dental spray, and the bacon spray are all made in the US.
The coupon codes we shared in last month's review are expired now but you can use the new code PT-BED to get a free pet bed with your subscription box order, or the code LOVE-PT5 to get $5 off your first order.  Coupons are valid for your first box order only, and they cannot be combined.
The box we reviewed was designed for small dogs.  I have most of our subscription boxes sent for Kit, mostly because he has always loved them so much.  I love that the Pet Treater boxes, even when designed for just a single dog, have plenty of stuff to keep both my dogs happy.
Do you currently subscribe to any pet themed boxes?  If you try out Pet Treater for yourself you'll have to stop by and let us know what you think!
We received our Pet Treater box for free in exchange for our honest review.  As always, we only share items we feel will be of interest to our readers.  This post contains affiliate links.