Bully Sticks That Actually Last!?
My dogs love love love bully sticks.  They don't get them that often though.  Bully sticks are often expensive, and in the past have never lasted my dogs long enough to justify the cost.  I've found other chews that the boys might not go quite as crazy for, but that last us a lot longer.  Bully sticks are usually more of a special occasion treat for my dogs.
We were recently asked to review bully sticks from a newer company, Bully Bundles.  When they asked if we'd review their bully sticks, I figured 'why not' - the boys would get some chews, which I was pretty sure from the beginning they'd enjoy, and I could help get the word out about a pet subscription service that's a bit different than what we're used too.  To be honest, I wasn't expecting to be amazed.  After all, you've seen one bully stick you've seen them all right?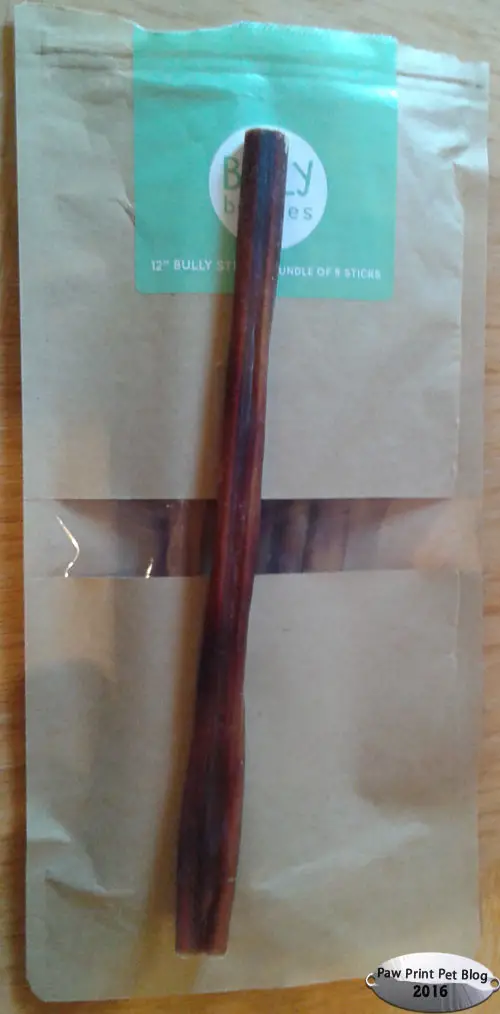 Bully Bundles sent us a bundle of 5 of their 12'' bully sticks.  One thing I noticed right away was that while these bully sticks did still smell, they didn't seem to smell as bad, or as strong, as ones I've bought the dogs in the past.
Bully Bundles' sticks are sourced from free range, grass fed cattle.  They don't contain any icky things like pesticides, preservatives, or growth hormones.  Just 100%, all natural, fully digestible beef.
Of course the real test was seeing what the dogs thought.  Some treats may look good on paper, but don't pass the taste test.  Kitsune is my foodie who will eat almost anything, but Fenrir is about as picky as they come.  The good news?  Both dogs really seemed to enjoy these chews.  The even better news?  I have never, in my 7 years of owning my own dogs, come across bully sticks that last as long as these do!
Normally bully sticks will last Kitsune anywhere from a few minutes to around 15 - 20 minutes, depending on how big/thick they are.  We opened our Bully Bundles package almost exactly a week ago and as I type I can look over and see a little less than half of one of the sticks sitting on the floor.  Both dogs have had access to it all week and it's still not gone!
It's not for lack of chewing, either.  Fenrir isn't a very heavy chewer but I've seen him settle in for a chew quite a few times over the past week.  Kitsune, on the other hand, is a powerhouse of a chewer and always chews daily.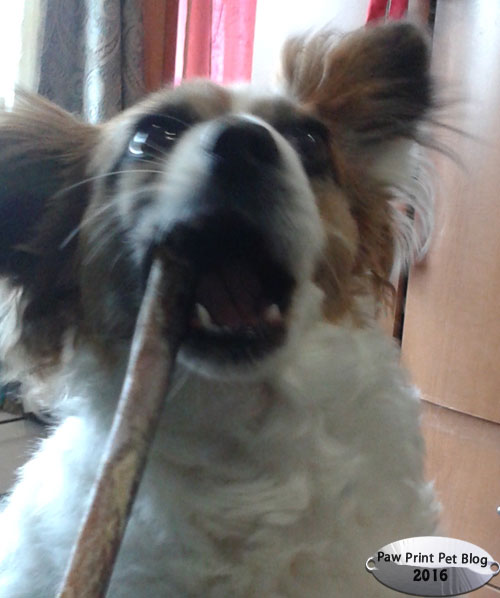 I guess that makes it an even better thing that these sticks don't have a strong odor!  I don't think any of the humans here would appreciate having to smell bully sticks all week.
To be fair, like I mentioned, bully sticks aren't something I normally buy.  I wouldn't really be able to compare these to other brands.  I'm sure some dogs would go through them faster than mine.  The only way to find out how long they'll last your dog is to let him/her try them!
The Bully Bundles website lets you choose between 6'' and 12'' sticks.  Then you get to choose how many sticks you want each month.  The 6'' sticks come in bundles of 6, 10, 15, 30, or 60.  The 12'' sticks come in bundles of 5, 10, 15, or 30.  This is a subscription service, so bundles will be sent every month until you cancel.  Prices range from $16 a month for a bundle of 6 6'' sticks to $105 per month which can get you either 60 6'' sticks or 30 12'' sticks.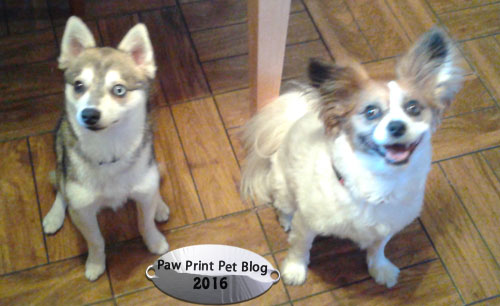 Look at my boys waiting for their bully sticks!  With a very high energy Papillon and an even crazier puppy, I know the value of a good chew!  Kitsune, Fenrir, and I all give Bully Bundles two paws up!
We'd love to hear from you!  Do your dogs like bully sticks?  Would you be interested in a subscription service that delivers them every month?