Last week was Cinco de Mayo.  It's not a holiday we typically do much to celebrate, although we did make a Mexican inspired dinner.  The dogs ended up celebrating more than us humans, mostly due to the fact that they received their May Pooch Perks box and it was Cinco de Mayo fiesta themed!
We've been reviewing Pooch Perks boxes for awhile now, you can click here to see our past reviews.  For anyone not familiar with Pooch Perks, they are a pet subscription box service that sends your dogs monthly goodies like toys, treats, grooming products, supplements, etc.  Prices start at just $20 per month for the Pennywise Pooch plan, and boxes come in two sizes (small and medium-large) based on your dog's weight.  Because both of my dogs are under 35 lbs, our reviews are for the small dog boxes.  We receive the Pampered Pooch upgrade box.
So you can get an idea of what type of stuff you'll receive each month, here's what we got in our May box.  As you can see, Kitsune was very excited to dig in!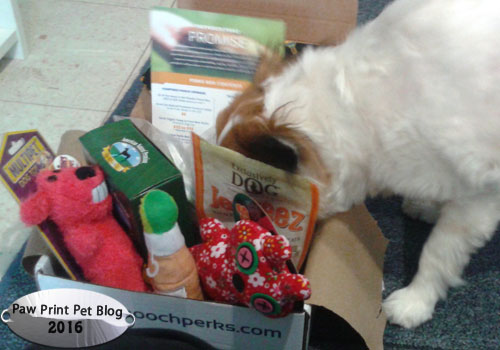 Multipet Loofa Dog:  Why do dogs love these so much?  Kit has gone through many a loofa dog in his life, and is always excited to receive a new one.
Amazing Pet Products Crazies:  This is a plush toy with a squeaker that also makes a crackling sound.
Haute Diggity Dog Mexican Beer:  The retail price on this toy seems a bit high considering its size, but it does seem well made and of course has the novelty factor.  It's a plush toy but is made to look like a beer bottle.
Your Pet Chef No Guilt Treats: These were a huge hit with my dogs.  Even Fenrir, my super picky puppy, really enjoyed them.  They are made in the USA from 100% human grade ingredients and are gluten and grain free.
Exclusively Dog Jerkeez: Taco flavored dog treats!  These are also made in the USA from natural ingredients, and are wheat, corn, and soy free.  They are soft treats that come in blocks that are very easy to break into smaller pieces, which I liked.
American Natural Premium Coconut Colada Dog Treats:  Kitsune loves these!  They are grain free and made in the USA.  Something in these treats, perhaps the pumpkin, seems to help settle his stomach too.
Mexican Themed Bandana:  You can't really see this item in the picture I took and, because it didn't have any brand listed on it, I can't link to it.  Sorry about that!  It's a cute bandana that features dancing chili peppers, cacti, sombreros, etc, on a black background.  It was too small to fit Kit but big enough for Fen.
There you have it, another fun Pooch Perks box!  As I mentioned, all the food items are made in the USA.  The toys we received are made in China.  If this is something that concerns you, Pooch Perks does have a Patriotic Pooch box that contains only items made in the USA.  They are the only pet subscription box I've seen that offers this option!
If you'd like to try our Pooch Perks for yourself the coupon code "PawPrintPet" should still get you a 25% discount off your first order.
We received our Pooch Perks box for free in exchange for our honest review.  As always, opinions expressed are our own and we strive to only share products we feel our audience will enjoy.