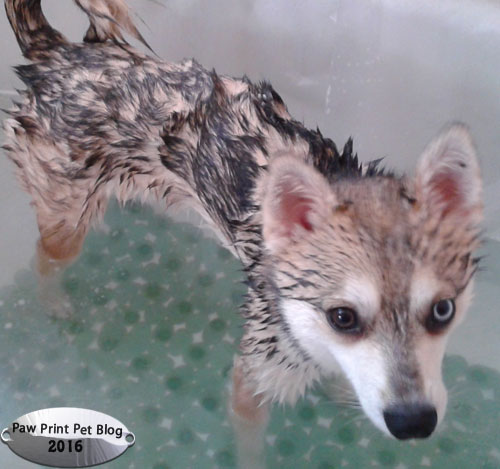 Fen looks silly when he's wet!
It's allergy season where we live.  Despite taking medication for my seasonal allergies, I've been pretty miserable for the past week.  Keeping the house, and especially the dogs, nice and clean doesn't eliminate my allergies completely, but it does seem to help a bit.  I'm not allergic to the dogs themselves, but they love to play outside and I think they bring pollen and other allergens in on their fur.  I give my dogs baths often, especially during allergy season.  Kitsune doesn't like baths but tolerates them well.  Fen, on the other hand, really seems to enjoy them!
Sorry our "wordless" Wednesday post is a bit late this week.  Our modem decided to stop working yesterday afternoon and the cable guy couldn't get out to replace it until this morning.  Luckily our internet is back up and running now, but going without put me behind on work so I spent most of today trying to catch up.
Anyways....Do your dogs enjoy baths?  Do you suffer from seasonal allergies like I do?  If so, what are some things you've found that help during allergy season?