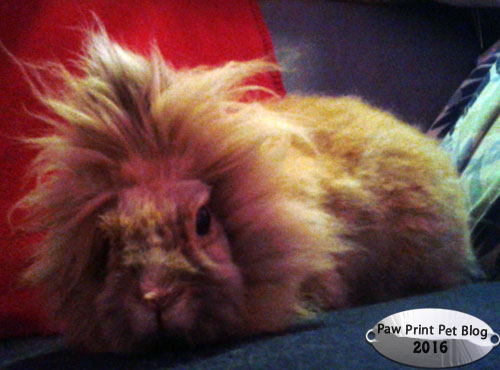 It's apparently Barnaby week here on the blog!  On Monday I posted an update about him and today I have a new video of him that I wanted to share.  It's not amazing, but keep in mind that Barnaby is a bit elusive so getting a good video of him is no easy task!  I've been trying for years to get videos of him running around/doing binkies (cute crazy jumps rabbits do when they are happy) but every time he sees me trying to record him he stops what he's doing!  I think I need to do some research on how to set up a hidden camera.
Barnaby is going to be very happy later today.  I've mentioned this here before, and it may sound weird, but he loves watching tv!  There is a couch in his room and when I turn his tv on he jumps up on the couch and will lay on it, staring at the tv, for hours and hours if I let him.
For years he had a working tv in his room but then, a couple of months ago, it randomly stopped working.  It took me awhile to get around to it but I finally ordered him a new tv, which should be delivered later today.
Have you ever had a pet that enjoyed watching tv?  Most of my pets seem to, for the most part, ignore when we have the tv on.  Barnaby, on the other hand, has always seemed to really enjoy watching it.