Hey furiends!  Last week Kit was very happy to receive the May Pet Treater box!  The theme this month was "Doggy De Mayo", a fitting theme in honor of Cinco De Mayo having been earlier this month.  Our goals for this review is just to show you what we got in our May box, so if you are interested in ordering a Pet Treater box for yourself (err...for your pet) you'll have a better idea of what to expect.
We've reviewed a couple of other Pet Treater boxes recently if you want to check out what we got in past months.  For those of you who didn't get a chance to look over my past reviews, I'll go over some of the details about Pet Treater.  Basically, like other pet subscription boxes, Pet Treater sends your pet a box of monthly goodies.  They offer boxes for small, medium, and large sized dogs.  Prices start at just $19.00 per box depending on what payment plan you select.  FYI, the boxes we review are designed for small dogs.
With each purchase Pet Treater makes a donation to help shelter pets.  They feature a new rescue monthly so each of your boxes will come with an insert card with information about an animal rescue.  This month they featured Second Chance Rescue NYC which I thought was awesome because this is a rescue I've been following for awhile.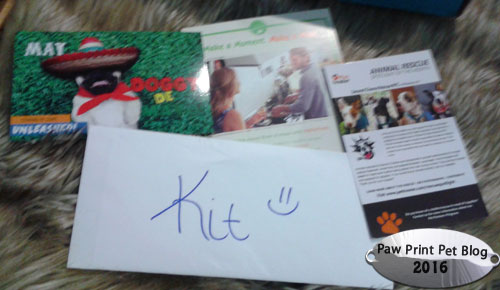 Other inserts inside the box include the theme reveal card, which also lists the theme for the next month (June's theme is "Unleashed"), a letter personally addressed to your dog, and a coupon or two.
But I know what you're saying - "Get to the good stuff!" right?  Here are the goodies we got in our Doggy De Mayo box...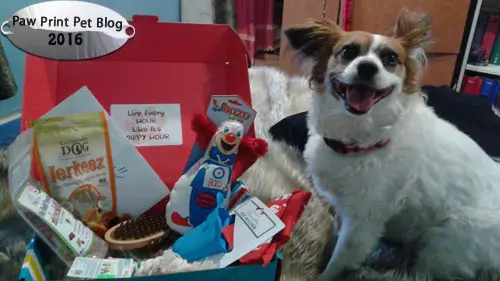 Bozo Dog Toy:  I've never been a huge fan of clowns, and watching my dogs beat up Bozo is oddly satisfying.  This is basically a plush squeaky toy which both of my dogs enjoy.  Bozo seems to be made of pretty durable material.
Fresh 'n Floss Large Taco: Although it's called a taco, this is a rope toy.  I couldn't find the exact item for sale online but it's the same brand/idea as this toy.  The one we received is kind of a coiled rope toy, if that makes sense.  Fenrir has been having fun with it, and it's supposed to help improve dental health.
LM-Farms Curry Brush:  This brush is really nice looking.  It has a wooden back with a leather handle.  I've only tried it on my dogs dry, which they seemed to enjoy, but it's supposed to be good to use to work up a lather in the bath as well.
Jerkeez Taco Treats: Strangely enough this is the second bag of these we've received this month, since our May Pooch Perks box contained the same treats.  Unfortunately Kit can't eat these (food allergies) and Fen isn't crazy about them (picky) so this bag will most likely go to our local shelter.  But these treats are made in the US and I'm sure most dogs would enjoy them!
Your Pet Chef Treats: We've gotten these treats a number of times before and the dogs always really love them!  The bag we got in our Pet Treater box is called "Fido Fiesta" and includes three separate flavors.  These treats are made in the USA, from locally grown all natural ingredients.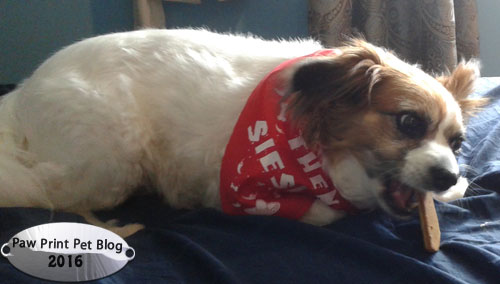 Pet Bandana: How cute is this bandana?  It's red with the text " Let's fiesta then siesta" on it.  I love that the bandanas that Pet Treater sends are a good size.  Both my dogs are usually considered to be small, but Kit has a heavy build and often times products designed for small dogs are too small for him.
Pawsitively Gourmet Cookie: This was a cute taco shaped cookie.  Kitsune ate it so quickly I barely had time to even get a photo of it.  I can't seem to find the package it came in to go over the details, but I do know it was made in the US.
Silicone Personality Pot Holder: This is the human gift in this month's box.  It's a pot holder shaped like a dog's head.  I'm sure I'll get some use out of this, although it doesn't match our kitchen theme at all.  It is cute though, and I was just telling my fiance the other day that our current pot holder was starting to wear out.
That's everything from our May box!  A lot of the items are made in China, but the treats never are.  If you are interested in checking out Pet Treater for yourself you can currently use the coupon code PT-BED to receive a free pet bed or LOVE-PT5 to get $5 off your first order.  The coupons can't be combined so you have to select one.  We actually received a pet bed with our first box and I was impressed with the quality.  We've had it a few months now.  Fen uses it just about daily, I've had to wash it a few times, and it still looks like new.
If anyone else receives Pet Treater boxes you'll have to comment below and let us know what you thought of this month's box.  What was your favorite item this month?  If you don't receive the boxes, what do you think your dog's favorite item would be?
We received our Pet Treater box for free in exchange for our honest review.  As always, we only share items we feel will be of interest to our readers.  This post contains affiliate links.