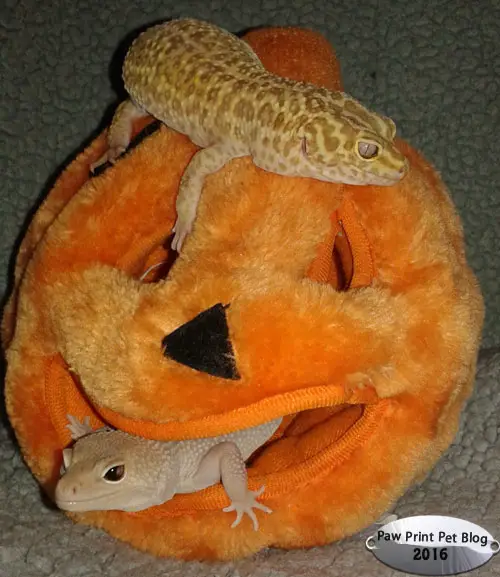 I feel like, over the years, Paw Print Pet Blog has morphed into being more of a dog blog than anything else.  I spend a lot of time each day with Kit and Fen, so a lot of my blog posts are inspired by them.  I love my dogs an insane amount, there's no getting around that, but people who have known me for a long time know that I've always had a passion for exotic pets.
I haven't posted much about Aurora and Miyuki lately.  They are such easy pets to care for that I don't often think of post ideas that involve them.  In addition to that, even when I take them out of their tanks they are laid back and not all that active, which makes them easy to handle but doesn't make for many amazing photo/video opts.
Since I've been posting lots about the dogs, and devoted much of last week to posting about Barnaby, I figured a post about my gecko girls was a bit overdue.
They are both doing really well.  Miyuki will be 5 years old next month, which is a bit crazy to think about since she was hatched here.  It doesn't feel at all like 5 years have passed already!
I keep going back and forth trying to decide if I want to redo the girls' tanks or not.  On one hand, redesigning their homes is always a lot of fun and they look a little bit better each time I work on them.  On the other hand, when I do major redesigns I usually end up spending quite a bit of money.  My fiance and I have some major purchases of our own (notably a car) that we're thinking of making in the near future, so I've been trying to be a bit more conservative with my money.
Lately I've been considering upgrading (size wise) the girls' tanks, if I can find the space, so I feel like putting a lot of time and money into the tanks they are in now might not be a good idea.  Plus, it's not like they are unhappy with the way their tanks are now.  I think I might keep them as is for now and reevaluate the situation after we get some of our other major purchases/expenses out of the way.
Either way, the girls are happy and healthy.  The weather here is supposed to get up over 85*F today, so I'm sure they'll love that.  I want to try posting new pictures/posts/videos of the geckos more often but seem to have a hard time thinking of what to post about them.  If anyone has any good ideas - good video ideas, topic ideas, questions, or things you'd like to learn more about when it comes to keeping geckos as pets, comment below!