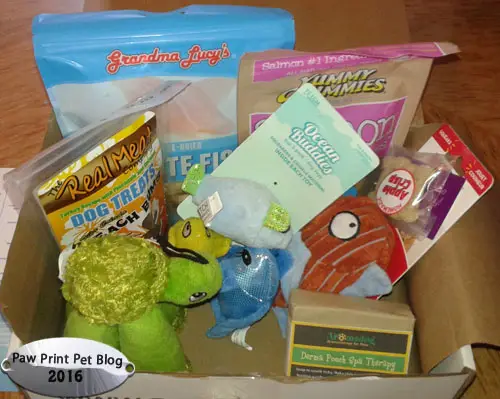 Happy Monday!  I hope everyone had an awesome weekend.  I meant to post this on Friday, but work gave me so many extra hours that not only did I not have time to blog on Friday, but I ended up working most of the day Saturday too.  Working on the weekend is never fun, but the extra money will be nice so I can't complain too much.  Anyways, the dogs were very excited to receive their June Pooch Perks box last week!  Read on to see what they got.
The Pooch Perks box theme this month was really cute!  It was a Finding Dory tribute box that was packed full of sea themed goodies.  Not only were the toys in this month's box really cute, but the treats were high quality and because most of them were fish based, even my allergy ridden Kit could enjoy them!  Here's a closer look at everything that was in our box.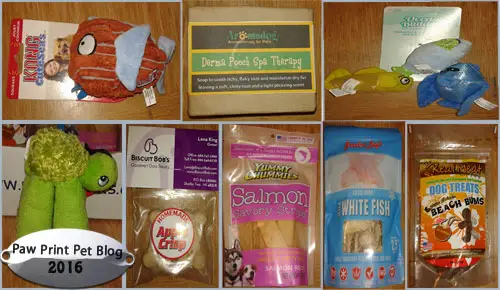 Kong CuteSeas Fish:  What dog owner isn't familiar with the Kong brand?  This adorable plush fish features a squeaker and also makes a crinkly sound.  This toy actually brings back a lot of good memories for me.  We have a CuteSeas Fish already and it was the first toy that Fen played with when we brought him home last September.  I remember his first night with us he didn't want to sleep, so I laid with him on the couch and he played with his fishy toy until he fell asleep.  So cute!
Derma Pooch Spa Therapy Soap:  I've been learning more about using aromatherapy for both people and pets lately, and was pretty excited about this soap.  It's a shampoo bar that contains essential oils like lavender, rosewood, carrot seed, and patchouli.  It has a nice, mild scent and is supposed to help sooth itchy skin and dry fur.
Ocean Buddies 3 Pack: More cute fishies!  These fish were on the small side but Fen says that they are the perfect size for little dogs like him to play fetch with.  Each fish has a squeaker and crinkle material inside.
PetLou Turtle: Another squeaky sea friend!  This toy I gave to Kit.  It features squeakers in two of the feet and rattles in the other.  Kit doesn't play with toys as much as he used too but he got really excited about this one.
Biscuit Bob's Apple Crisp Treats: This was more of a free sample item and only contained two biscuits, but I figured I'd include them here since both my dogs enjoyed them.
Yummy Chummies Salmon Strips:  Both my dogs really like salmon, but don't get it all that often.  These treats are made in the USA.  They are basically like salmon jerky strips.
Grandma Lucy's Freeze Dried White Fish:  Treats like these are my favorite things to give the dogs.  They are single ingredient, freeze dried treats.  These are great for dogs with allergies and usually healthier than other types of treats because they don't contain any additives.  Plus, since they are made from real meat dogs love them!
The Real Meat Company Turkey Recipe: Kit couldn't try these because they contain turkey, but picky Mr.Fen likes them.  These treats are soft so I've been breaking them into smaller pieces and using them as training treats.
There you have it - our June Pooch Perks box!  Everyone had a different favorite this month.  I really liked the aromatherapy bar.  Kitsune loves his turtle toy and was especially fond of the salmon strips.  Fen has been having the most fun playing with the little plush fish.
We've been reviewing Pooch Perks boxes for awhile now, you can click here to see our past reviews.  Because both of my dogs are under 35 lbs, our reviews are for the small dog boxes.  We receive the Pampered Pooch upgrade box.  All the food items are made in the USA.  The toys we received are made in China.  If this is something that concerns you, Pooch Perks does have a Patriotic Pooch box that contains only items made in the USA.  They are the only pet subscription box I've seen that offers this option!
If you'd like to try our Pooch Perks for yourself the coupon code "PawPrintPet" should still get you a 25% discount off your first order.  For the month of June 2016, you can use the code "SWIM30" to get 30% off your first box order.
We received our Pooch Perks box for free in exchange for our honest review.  As always, opinions expressed are our own and we strive to only share products we feel our audience will enjoy.