Our beautiful Miss Poppet passed away on December 17th, 2015, 6 months ago today.  It's always heartbreaking to loose a pet.  Poppets loss, for me, was all the more devastating due to the fact that we had her here with us for only a short time.  We started fostering her on September 23rd, 2014, and officially adopted her just a few days later.  In September of 2015 we celebrated her 1st "gotcha day" here with us, not knowing at the time that she would be gone just a few months later.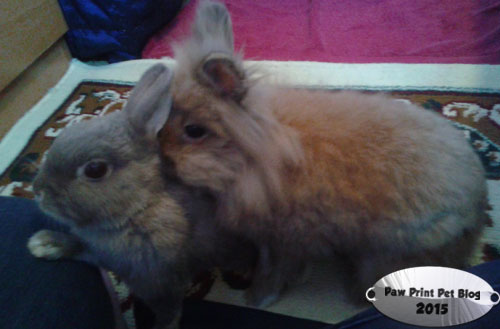 I don't think I'll ever meet another rabbit as sweet as our Poppet was.  Despite having a bad start to life, and suffering at the hands of humans, she was a complete love bug.
6 months after our little ladies passing I still think of Poppet often, but it's almost always about the happy times we had with her.  She gave us so many happy memories in the relatively short time she was here with us.
I don't know if I would have even realized that it's been 6 months since she passed if it wasn't for the fact that I had a dream of her the other night.  When I woke up the first thing I did was go in to check on Barnaby and in my still half asleep state I had to do a double take.  I could have sworn that for a split second I saw Poppet snuggled up next to Barnaby.
Every time one of my pets dies I swear I'm never going to get another.  The heartbreak, the vet bills, the stress - in the aftermath of death it doesn't always feel worth it.  It's worth it.  I always come to realize this again after some of the initial sadness begins to fade.  If I could rewind time, and had to decide all over again if I wanted to foster/adopt Poppet or leave her to be euthanized at the shelter, but this time I knew what the next year and a half would hold for us...I'd do it all over again in a heartbeat.