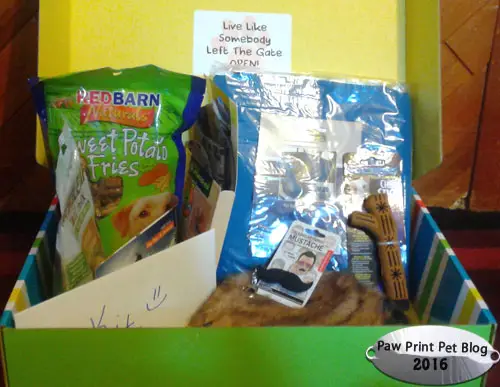 I hope everyone had an amazing weekend!  Happy belated Father's Day to all the amazing dads out there.  My fiance, the Paw Pack's dad, has been sick for the past couple of days.  Luckily over the weekend he finally started feeling better.
The dogs always get so excited when the mail man delivers a box for them.  Last week we received our June Pet Treater box and really the timing couldn't have been any better.  I've been having to work extra hours, and with my fiance being sick, we've been pretty boring lately.  The dogs very much appreciated a box full of goodies.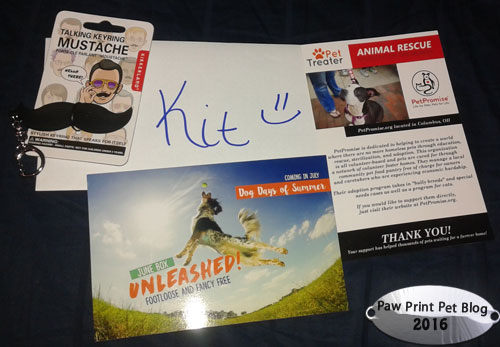 This month's box had a "Unleashed" theme.  Every month, Pet Treater selects an Animal Rescue Spotlight of the Month.  This month's rescue is PetPromise, a volunteer-based network of foster homes helping to save the lives of homeless animals in Columbus, OH.
Pet Treater sends a hand addressed letter for Kit in every box, a couple of inserts highlighting their monthly theme, Rescue Spotlight, and Pet of the Month, and a small gift for the household humans!  Pet Treater is the only box we've reviewed (and we've reviwed many) that sends a gift for you as well as a bunch of stuff for your dog.  This month I got a talking keyring mustache.  A bit random, but it's cute/silly and made me laugh.
Here's what the dogs got this month...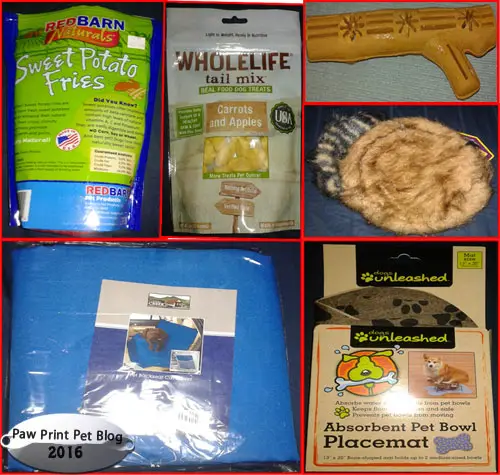 Sweet Potato Fries:   I don't know if you can tell from the picture, but we got a large (16 oz) bag of these!  They are made in the USA of dried sweet potatoes.
Tail Mix: It took me awhile to notice this product is called "tail mix" and not trail mix.  The flavor we got is carrots and apples.  It's made in the US (Mass - my home state!), and has healthy, limited ingredients.
Treat Chew Stick: This toy looks like a stick, but is made of rubber and has grooves/holes where you can fill with treats (I put peanut butter on ours).
Multipet Racoon Hat:  How unique is this toy?  It looks like a racoon hat.  There is a squeaker in the tail part and the top makes a fun crinkle sound.
Pet Backseat Car Cover: I love this item!  It's perfect to protect your backseat from muddy dogs after a fun day of hiking.
Pet Bowl Placemat:  Since we added a second dog (Fen) to our pack, I think the number of water bowls in our house has tripled.  Fen likes to play in them, so I keep extra bowls out so, even if Fen dumps one, the boys always have clean water.  This absorbent pet placemat has already come in handy here!  It helps keep pet bowls in place, and absorbs spills.
Another fun box from Pet Treater!  My favorite item this month would have to be the car seat cover.  Kit really likes the racoon hat toy and sweet potato treats.  Fen's favorite is the treat chew stick.  I've been putting small amounts of (dog safe) peanut butter in it to keep him busy while I'm working.
If you are interested in checking out Pet Treater for yourself, they offer boxes for small, medium, and large sized dogs.  Prices start at just $19.00 per box depending on what payment plan you select.  The boxes we review are designed for small dogs.
If anyone else receives Pet Treater boxes you'll have to comment below and let us know what you thought of this month's box.  What was your favorite item this month?  If you don't receive the boxes, what do you think your dog's favorite item would be?
We received our Pet Treater box for free in exchange for our honest review.  As always, we only share items we feel will be of interest to our readers.  This post contains affiliate links.