How crazy is it that 2016 is already half way over?  Monday was officially the first day of summer, although it's already been feeling like summer here for quite awhile.  There are only 185 days left until Christmas, for those of you keeping count.  In the crazy city we live in, that pretty much means it's time to start putting up Christmas decorations.  Seriously, I walked by a house yesterday with Christmas lights up!
I have to admit that summer isn't my favorite season.  I enjoy the cold/snow more than I do the heat.  For the most part I think my pets agree with me.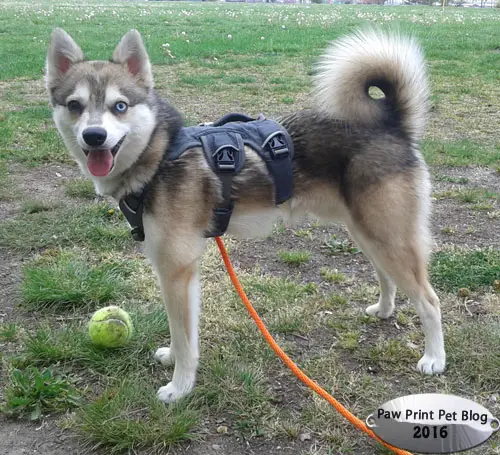 The dogs and I have been having to find ways to keep busy indoors.  Fen is almost 11 months old now and although his training is going well, he still has a lot to learn.  We do multiple shorter training sessions throughout the day to brush up on what he already knows, and to work on new things as well.
Besides just basic commands Fen and I have started working on slightly more complex tricks.  This week I set our agility tunnel up in the living room and taught him how to run through that.  I also bought a hula hoop so I can teach him how to jump through it.  I'm teaching him the "mark" command, which is basically just to put his front paws on a marker object on the ground.  It sounds simple/boring, but is a foundation skill that will eventually lead to more interesting tricks in the future.
Teaching new skills, especially active ones like jumping through hoops and running through tunnels, not only allows Fen to get some indoor exercise but challenges him mentally as well.
Kitsune has arthritis in his back legs and although it's mild and managed well, I've been opting for lower impact activities for him.  We recently introduced him to K9 Nose Work (read about it here if you don't know what it is) and although we're very new to it still, Kit really seems to enjoy it.
Besides lots of training sessions and fun indoor activities I've been keeping the boys busy with things like puzzle toys and chewies.  Of course the boys also help keep each other entertained.
Barnaby has been pretty chill lately, not that I blame him.  Like me, he's never been a big fan of the hot weather, plus he's quite old now.  He's been spending most of his days relaxing near the AC, but does get more active in the evenings once it starts to cool down a bit.
The geckos are my only pets who really love the hot weather.  They've been very active and eating like piglets since the weather got hot.
I didn't mean for this post to get so long!  It's even less 'wordless' than usual, so I'll end it here.  Comment below - what are some fun indoor activities you do with your pet when it's too hot to spend time outside?