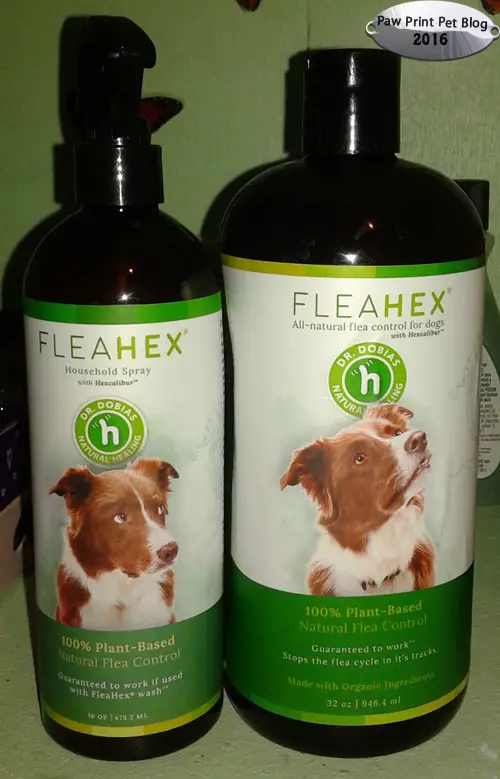 Most of Paw Print's long time readers probably won't be surprised when I say that I have a love-hate relationship with flea products.  I hate the idea of using potentially dangerous chemicals in my home, especially on my pets.  When Kit was a puppy I decided not to use flea products on him.  Until, that is, he got fleas for the first time.
We quickly learned that Kitsune, among his many other allergies, is allergic to flea bites.  Just a couple of flea bites sends him into an itching frenzy.  He bites and scratches at himself so much that he bleeds, his fur falls out, and his skin gets covered in irritating scabs.  Poor pup!  Obviously those fleas had to go, and fast.  Over the years I've tried quite a few all natural products/remedies to prevent and eliminate fleas, but in the end always ended up resorting to using spot on flea products from our vet.  I hate putting pesticides on Kit, but, for his sake, need a flea product that works.
I found Dr.Dobias awhile back, I believe originally through a Youtube video.  He has an amazing dog named Skai, a 15 year old Border collie.  I started following Dr.Dobias on Facebook and have very much enjoyed keeping up with his blog.  I had never purchased any of his products, but when I learned he had helped to develop a new, all natural, flea product I was intrigued.
FleaHex is a two part system.  First, there is a shampoo for your dog.  The directions state that, if you are currently dealing with fleas, you should use the shampoo on your dog once a week.  After that, more as a preventative, you can switch to using it just once or twice a month.  The second part of the system is a household spray.  The directions say to use it on carpets, bedding, and blankets at the same frequency as you use the shampoo (once a week for 4 - 6 weeks, then once or twice a month as a preventative).
The best thing about FleaHex is that it's made in Canada and the US from all natural, organic ingredients.  The shampoo contains Castile soap, water, coconut oil, neem oil, and a proprietary essential oil blend.
I purchased FleaHex earlier this month and experienced no issues.  Shipping was fast.  The products were packaged well and arrived undamaged.  Last weekend I bathed both my dogs in the FleaHex shampoo for the first time and also sprayed the house with the household spray.  I do think it's important to note that my dogs do not have fleas.  I'm really hoping to be able to use this product as a preventative so that I can avoid putting more traditional chemical flea products on my dogs.
Keep in mind that this post is about my initial product impression.  Since we've only used the FleaHex system once so far I don't feel like I can say much about how effective it is.  I'll make sure to update about whether it worked well or not when flea season ends.  I'm planning on using FleaHex as our only means of flea prevention this summer, unless the product doesn't work for us.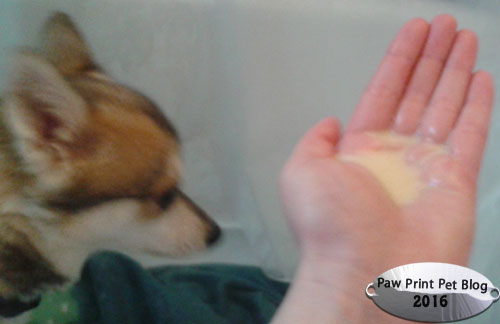 The consistency of the shampoo wasn't initially what I was expecting.  It's very thin, with a consistency closer to water than to typical shampoos.  I didn't feel that it lathered very well, although adding it to my dog's fur and then adding warm water did seem to help it lather more.  I wouldn't say it smells as good as the dog shampoo we're used too, but it doesn't smell bad.  FleaHex doesn't wash off cleanly like other dog shampoos I've used do, but the bottle says that it leaves behind a flea fighting residue.  I figured, in this case, the product not coming off completely was a good thing.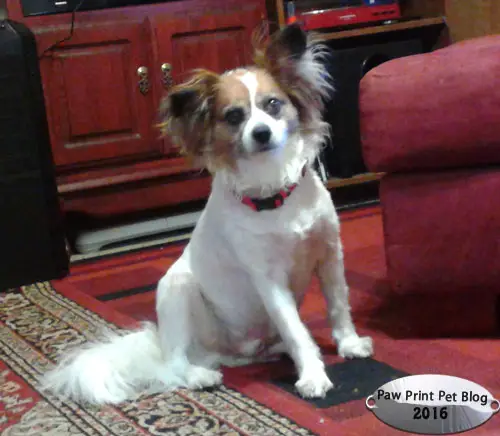 The shampoo left both of my dogs' fur a bit greasy looking.  It was especially noticeable on Kitsune's longer fur, on his head and tail.  It reminds me of how they would look if I used coconut oil in their fur.  Despite looking oily, they don't feel gross at all when I pet them.  A few days after using the shampoo for the first time I actually noticed that Kit's fur especially felt extra soft.  That's saying a lot because Kit has amazingly soft fur normally.
The household spray is fine.  It smells similar to the shampoo, but the smell dissipates quickly.  The sprayer on the bottle works really well.  I sprayed down our area rugs, curtains, couches, and the dogs' bedding.
I feel like if FleaHex was just a dog shampoo and not a flea product I probably wouldn't purchase it again.  But if it actually does work to prevent fleas it will be a godsend, and I'm sure a staple product in our house!  I'm glad I started using it before my dogs actually had any issues with fleas because the bottle does say that the product can take 4 to 6 weeks to be completely effective if your dog already has fleas.  With Kit's flea allergies, waiting 4 to 6 weeks to be completely flea free wouldn't be an option.  I'd have to resort to using something that works faster.  I'll let you all know how/if it works as a preventative.  I have really high hopes that, with the help of FleaHex, we'll be able to make it through the summer without fleas and without having to resort to nasty chemicals to eliminate fleas.