I've got some very happy pups this week - they recently received their July Pet Treater box!  We've been reviewing these boxes for awhile now (click here to check out our past reviews) and this month's box, like all the others, did not disappoint!
I have to say we've really been having a lot of fun with the Pet Treater boxes.  We've reviewed quite a few pet subscription boxes over the years and Pet Treater pretty quickly became one of our favorites.  They send a good variety of treats and toys, with the treats always being made either in the US or Canada.  A lot of pet sub boxes stop there, which is ok, but Pet Treater goes the extra mile and sends additional items such as grooming and general dog care (things like bowls, car mats, etc) supplies, as well as a monthly human gift!
The human gift is a fun addition that makes me a bit more excited for each month's Pet Treater box.  I love getting stuff for the dogs, but it's fun to get a little something for myself too!  This month I got a Chill Tube Cooling Towel, which works surprisingly well.  Here's all the stuff we got this month...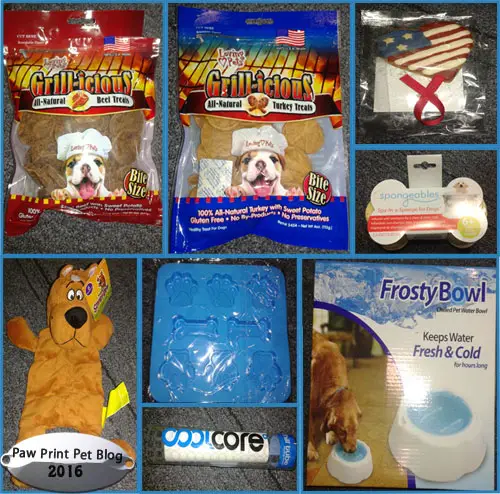 Grill-icious Turkey Treats:  These treats are made in the US from turkey and sweet potato.  They are cooked on grill racks and don't contain wheat, gluten, additives, or preservatives.
Grill-icious Beef Treats: These are similar to the treats above, but made from beef and sweet potato instead of turkey.  I thought it was cool that we got two flavors to try.  Kit can't have the turkey treats because of his allergies but he's been enjoying these beef treats.
Emmy's Gourmet Canine Creations Three Cheese Cookie: This cookie is really big!  I gave it to Fen since it contained eggs and chicken flavoring, but it was so big that I broke it up and gave it to him in pieces.  He seemed to really enjoy it.
Spongeables Spa-In-a-Sponge: I'll be honest, we haven't tried this item yet.  I've been bathing the dogs every other week with FleaHex shampoo so I can hopefully avoid having to use harsher flea products this summer.  This sponge is infused with shampoo and says it can be used for 6+ baths.
Scooby-Doo Squeak Toy:  What's even better than a squeaky toy?  A squeaky toy with 8 squeakers!  I know both my dogs are going to love this toy.  I haven't given it to them yet because I want to save it for Fen's birthday.
Paw Print Ice Cube Tray: There's no link for this item.  It has a Pet Treater label on it so I think it's more of an exclusive item that you won't find online, although you can get similar ice cube trays on Amazon.  As my regular readers probably already know, I do a lot of cooking for my dogs.  I love this item!  Besides just regular ice cubes, you can use it for frozen dog treats.  It even came with a doggy ice cream recipe printed on a magnet.
Frosty Bowl:  Another really cool item!  Literally cool!  This water bowl has a core section you can stick in the freezer.  It says it will keep your dog's water cool for up to 8 hours.
Bandana: This last item isn't in the picture above, but I posted a sneak peak of it in our 4th of July post.  It's a full sized bandana.  I have to admit that I'm probably going to steal it to use myself rather than giving it to the dogs.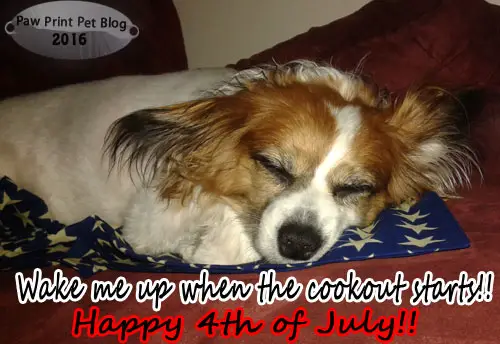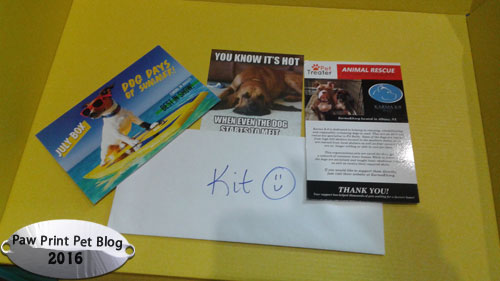 That's everything from our July box!  Pet Treater also sends a few inserts every month, one that says the theme of the box (this month was Dog Days of Summer, by the way), another that highlights their monthly Animal Rescue Spotlight (Karma k-9 Rescue this month), and an adorable hand addressed letter to your dog.
I'd have a hard time saying which item in this month's box was my favorite.  We got lots of awesome stuff.  If you are interested in checking out Pet Treater for yourself, they offer boxes for small, medium, and large sized dogs.  Prices start at just $19.00 per box depending on what payment plan you select.  The boxes we review are designed for small dogs.
You can currently use the coupon code PT-BED to receive a free pet bed, or LOVE-PT5 to get $5 off your first order.  The coupons can't be combined so you have to select one. 
We received our Pet Treater box for free in exchange for our honest review.  As always, we only share items we feel will be of interest to our readers.  This post contains affiliate links.