I have a bit of a ritual when it comes to reviews.  I have a little table right next to my computer desk.  When I get a pet product (or in the case of pet subscription boxes, a series of products) to review I'll keep them on this table.  If it's a toy or something the dogs are testing out, I'll keep just the packaging on the table in place of the actual product.  I don't throw away packaging/move products off the table until my review is done.  Most of the time, this helps encourage me to get my reviews up ASAP, because I want to be able to get them out of my work space.
Normally, when I'm reviewing a pet sub box, this strategy will mean that I'll have sometimes quite a few bags of dog treats sitting next to me.  I'll open the bags, give the boys treats to try every now and then, but usually we still have almost full bags of treats by the time my reviews are posted.
This review is for the July Pooch Perks box that I posted a bit of a sneak peak video of last Wednesday.  We've had our Pooch Perks goodies here for a full week now and my little review table is covered in empty treat bags!  We don't usually go through dog treats that fast, but the boys really loved the treats in their Pooch Perks box this month.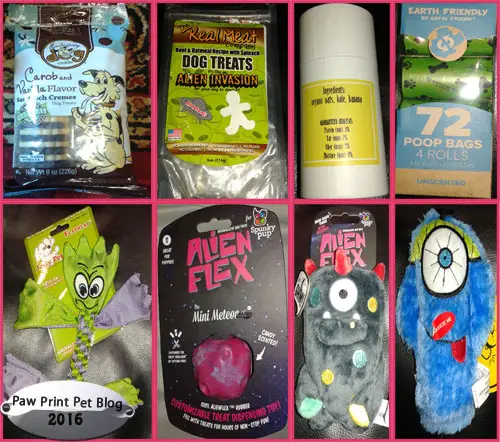 This month's theme was "Outta this World".  As a big scifi fan myself, I really enjoyed this months theme.  This is what we got in our box...
Exclusively Dog Carob and Vanilla Sandwich Creme Cookies: I'll be honest, these aren't the healthiest dog treats ever.  They're not something I'd want to give my boys regularly, but I figured that as a special treat they'd be ok.  Kit especially loved these.  They smelled so good I was tempted to try one myself!
The Real Meat Company Beef & Oatmeal treats:  These treats didn't even make it to picture day.  I had to take a picture of the empty bag!  I liked that they had healthier ingredients.  My dogs just loved the taste.  I used most of these as training treats.  Each treat is big, but they are soft and easy to break into smaller pieces.
Camberville Dog Treats: The flavor of these treats was kale banana.  The contain only three ingredients - organic oats, kale, and banana.
Earth Friendly Dog Poop Bags: With two dogs, and no less than 5 walks per day, you know we go through our fair share of poop bags.  I've received single rolls of poop bags in sub boxes before but thought it was cool that Pooch Perks sent a whole box of them.  We got 4 rolls, a grand total of 72 bags.
Jolly Pet Flathead Toy:  I've been hording toys a bit rather than giving them to the dogs right away.  Fen's birthday is August 1st.  I think he'll really like this toy so decided to save it for his birthday.  It's stuffing free, has a squeaker, and makes crinkly sounds.
Alien Flex Mini Meteor: This toy is comparable to a Kong.  It's hollow inside so you can fill it with food/treats.  This toy I did give to Fen, mostly because he's got lots of energy and I'm always looking for new ways to keep him busy while I work.
Alien Flex Mini Ghim: Ghim has reinforced lining and seems to be very well made.  He's been holding up well against Fen so far!  That's saying a lot these days, because Fen has developed a habit of destuffing toys.
Petlou EZ Monster: An alien friend for Ghim!  This toy has a large, puncture proof squeaker.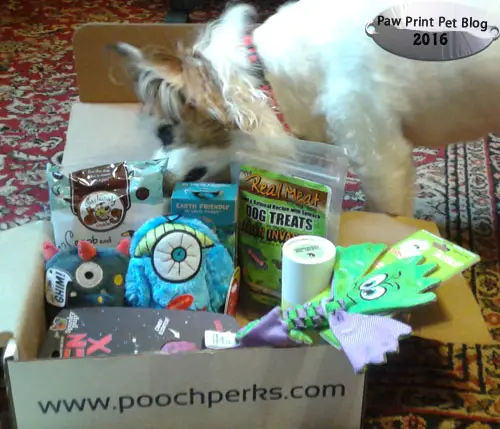 There you have it, our July 2016 Pooch Perks box!  We had a lot of fun with this one.  The boys especially enjoyed the treats.  We've been reviewing Pooch Perks boxes for awhile now, you can click here to see our past reviews.  Because both of my dogs are under 35 lbs, our reviews are for the small dog boxes.  We receive the Pampered Pooch upgrade box.  All the food items are made in the USA.  The toys we received are made in China.  If this is something that concerns you, Pooch Perks does have a Patriotic Pooch box that contains only items made in the USA.  They are the only pet subscription box I've seen that offers this option!
If you'd like to try our Pooch Perks for yourself the coupon code "PawPrintPet" should still get you a 25% discount off your first order.  If, for some reason, that code doesn't work you can try using "FRIEND10" to get 10% off your first month.

We received our Pooch Perks box for free in exchange for our honest review.  As always, opinions expressed are our own and we strive to only share products we feel our audience will enjoy.  This post contains affiliate Amazon links.  To learn more, visit our Legal Stuff page.