Today is Fenrir's 1st birthday!  Crazy that our little one is a year old already.  It has been such an honor watching him grow and change over the past year.  He really has changed so much from that tiny, 2 lb, pup we brought home last September.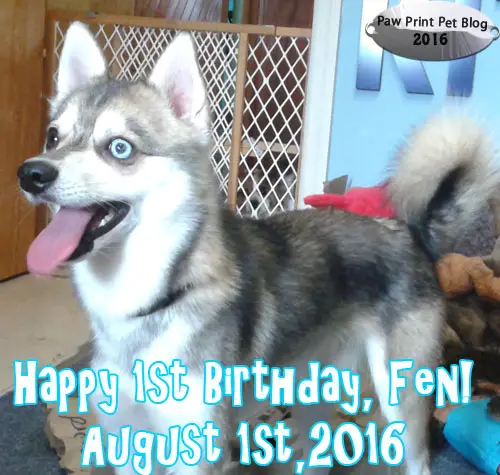 Pet birthdays are always so bitter sweet.  Especially 1st birthdays!  I'm happy to be able to celebrate Fen's first year of life, but a bit sad that his really young puppy days are behind us.  As much work as caring for a young pup can be, the time goes by all too quickly.  I think Fen growing up is especially hard in some ways, because I know it will probably be a very long time before we raise another puppy.
But Fen, like Kit, will be my pup no matter how old he gets.  Especially now, when he's still so full of puppy energy.  I'm going to do my best to appreciate each day I have with my boys.  I'm very much looking forward to the next year of fun with Fen.
I started this tradition on Kit's first birthday.  Every year I put together a video showcasing some of the photos/videos taken over the past year.  Here's Fen's 1st ever birthday video!
And, of course, I have to announce the winner of Fen's birthday bash giveaway!  The winner's name should be displayed on the Rafflecopter below.  I will also be contacting the winner via email later today.
Since Fen's birthday fell on a Monday this year my fiance, Chris, and I decided to celebrate over the weekend.  Yesterday we gave Fen a few gifts to open, plus I made him a special dinner (chicken) and a pupcake!  Dogs are lucky that they don't really understand birthdays, or the concept of ageing, but I think Fen has been having lots of fun celebrating with us all the same.
Thanks to everyone who already stopped by to leave birthday wishes for our little man!  I'm off to overdose on (birthday) puppy snuggles!