Happy Friday!  If there was a competition to determine the most spoiled dogs in the world, I'm pretty sure mine would be near the top of the list.  On top of all the fun we had celebrating Fenrir's 1st birthday, the dogs also got their August Pooch Perks box early this month!
If you haven't checked out Pooch Perks yet, now is an awesome time to!  In honor of the 30 Olympic events that Team USA will be competing in, you can currently use the coupon code RIO2016 to get 30% off your Pooch Perks purchase.
Because both of my dogs are under 35 lbs, our reviews are for the small dog boxes.  We receive the Pampered Pooch upgrade box.  All the food items are made in the USA.  Many of the toys we receive are made in China.  If this is something that concerns you, Pooch Perks does have a Patriotic Pooch box that contains only items made in the USA.  They are the only pet subscription box I've seen that offers this option!
This month's box was packed full of items to help get your pup Olympic ready!  Here's what we received...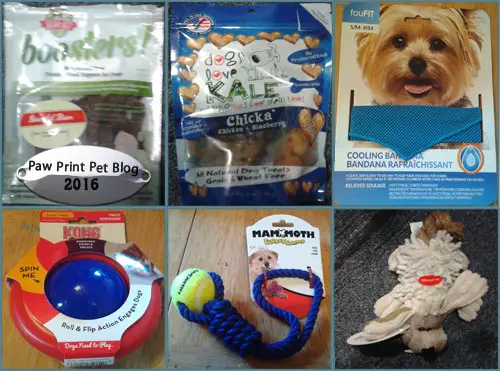 Boosters Dehydrated Raw Treats:  These treats came in the flavor "bountiful bison".  They are made in the USA and contain no grains, wheat, corn, soys, gluten, artificial ingredients, or preservatives.  Both my dogs give these treats two paws up!  Kit, especially, enjoyed them.
Dogs Love Kale Chicka Treats:  The Chicka treats contain beneficial ingredients such as kale (of course), blueberries, and organic human grade chicken.  They are a hard treat shaped like hearts that are easy to break into smaller pieces if you want to use them as training treats.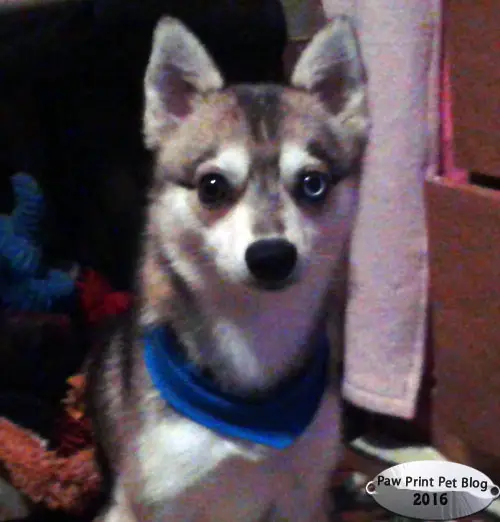 fouFIT Cooling Bandana:  How adorable does this bandana look on Fen?  It's his color and everything!  It was a bit too small for Kit, who's around 20 lbs, but fits 10 lb Fen.  It's probably for the best that Fen is the one who got this item, since, with his much thicker coat, the heat seems to bother him more than it does Kit.
Kong Gyro: Despite Kongs being a pretty staple dog toy, I had never heard of Kong Gyro before.  It's a treat dispensing toy, which you know made it an immedient hit with my foodie Kit.
Mammoth Flossy Chews:  I love this thing!  I know, weird right?  At least until I explain why.  Fen is not a very food motivated dog, but he loves toys.  He especially loves tennis balls.  When I walk him and a situation arises where I need to reward him, I used to toss him a tennis ball.  It works really well for training him, but if he drops the ball and it rolls out of reach then we have to go chasing after it.  The solution?  A tennis ball on a rope - genius!
Petlou Natural Twister Toy: We have similar Petlou toys (just different characters- the one we received in our Pooch Perks box is a dog) and Fen really likes these toys.  In fact, out of alllll the toys we have here for a long time one of his favorites was a Petlou Natural.
That's it for this month.  I think my favorite item in this box was the Mammoth Flossy Chew, mostly because I can foresee using that toy to help train Fen during walks for a long time to come.  The King Gyro is a cool toy too though.  Kit has been playing with it a lot since we got it, which is saying something.  Ever since Kit got his little brother he's been more into playing with Fen than with his toys.  These days it really takes something special to capture his interest for any length of time.
We've been reviewing Pooch Perks boxes for awhile now.  If this month's box isn't enough to convince you to get your dog a box of his/her own, you can check out some of our past reviews here.
We received our Pooch Perks box for free in exchange for our honest review.  As always, opinions expressed are our own and we strive to only share products we feel our audience will enjoy.  This post contains affiliate Amazon links.  To learn more, visit our Legal Stuff page.