What's better than having happy puppies!?  Fen's been feeling pretty sorry for himself this week (he was neutered on Monday), but our August Pet Treater box got here and perked him right up!  This month's theme was Best in Show, and the animal rescue of the month is HAAL Homeless Animal Adoption League, Inc based in Bloomington, NJ. 
Without wasting any time, here's what we received in our August box...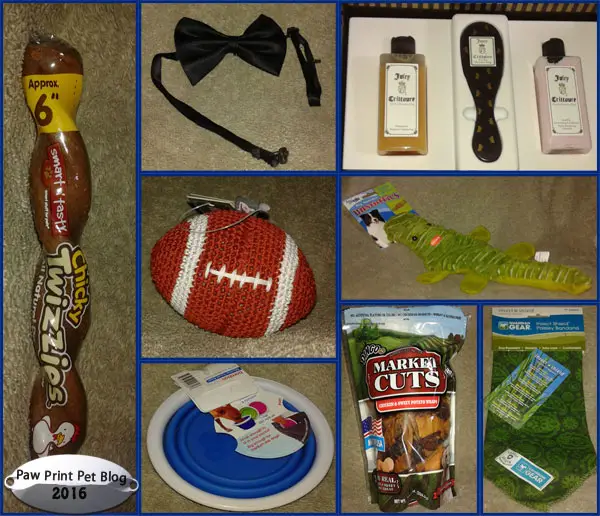 Chicky Twizzies: This 6'' treat is made in the US.  Fen got this treat, since Kit can't eat chicken, and enjoyed it.  To be honest I probably would have given this to Fen even if Kit could have had it.  It's been a task and a half keeping him from pulling out his stitches, so anything that keeps him busy for awhile is very much appreciated.
Black Bow Tie: There was no brand name on this tie, so I can't post a link to it, but look how adorable it looks on Kit...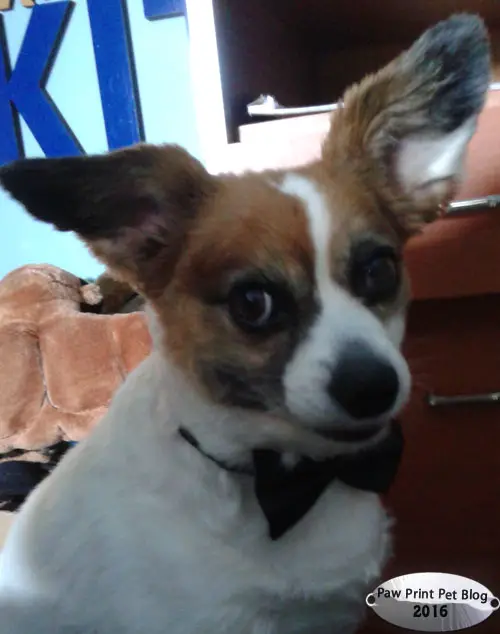 Dogo Football Toy:  My boys have been taking turns carrying around this cute knit football toy.  I think they like the texture of it, as they've both been fans of knit toys in the past.  Of course the fact that it has a squeaker doesn't hurt either.
Bamboo Home Silicon Travel Bowl: This is an item I'm sure we'll get a lot of use out of!  It's a really cute collapsible bowl.  We take the boys to the park a lot and our current travel bowl (for giving them water) is a bit bulky.  This one is much more compact.
Juicy Crittoure Gift Box: How cool is this item?  It's a gift box that includes a bottle of shampoo, one of conditioner, and a wooden soft bristle brush.  I haven't tried the bath products on the dogs yet but they smell nice.  With a double coated, heavy shedding dog you can never have too many brushes!
Grriggles Unstuffies: This alligator toy is not only cute, he contains three squeakers and no stuffing - perfect for Fen, who has developed a love for de-stuffing toys.
Market Cuts Chicken & Sweet Potato Wraps:  These treats are made from slices of sweet potatoes wrapped with strips of dried chicken.  Fen almost seems to turn eating these into a game.  He picks all the chicken off and eats that first then chews on the sweet potato.
Guardian Gear Insect Shield Bandana: This bandana says it's infused with ingredients that help to repel biting insects.  We haven't tried putting it to the test yet, but the bandana itself is cute and is a good size.
Something unique about Pet Treater is that each month, along with all the goodies for your dog(s), they also send a human treat!  This is what I got this month...

Cute right?  It's a note pad that has different dogs/sayings on each page.  I actually go through a lot of note paper, so this item will really come in handy for me.  Plus it looks adorable sitting on my desk!
Want to try out Pet Treater for yourself?  You can use the coupon code PT-BED to get a free pet bed, or Love-PT5 will get you $5.00 off your first box.  Coupon codes cannot be combined so you have to select one or the other, and are only valid on your first box.
Pet Treater is also currently running this awesome promotion for current subscribers.  If you upload a video of your pet (to Youtube or via the Pet Treater FB page) and Pet Treater uses it you will receive a free box, plus be entered to win an entire year of free boxes!
The pups and I always have a lot of fun with our monthly Pet Treater boxes.  They offer boxes for small, medium, and large sized dogs.  The boxes we review are designed for small dogs.  Prices start at just $19.00 per box depending on what payment plan you select.
We received our Pet Treater box for free in exchange for our honest review.  As always, we only share items we feel will be of interest to our readers.  This post contains affiliate links.