Happy September!  I, for one, am looking forward to the official start of fall later this month.  Luckily it seems like I won't have to wait that long to enjoy some cooler weather.  Today is the first day in a long time that I've been able to open windows rather than run the AC.  But enough about the weather!  Those of you who read my post on Wednesday probably saw today's post coming - we got our September Pooch Perks box!
Before I share everything we got I wanted to let you all know that if you sign up for Pooch Perks during the month of September you can use the coupon code CLASSOF2016 to get 16% off your order! 
My boys are both under 35 lbs, so our Pooch Perks reviews are always for small dog boxes.  We receive the Pampered Pooch upgrade box.  All the food items are made in the USA.  Many of the toys we receive are made in China.  If this is something that concerns you, Pooch Perks does have a Patriotic Pooch box that contains only items made in the USA.  They are the only pet subscription box I've seen that offers this option!
September's Pooch Perks box had a back to school theme.  Here is (mostly) everything we received this month...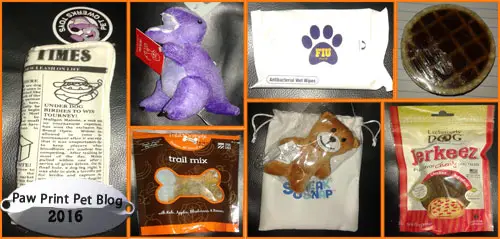 Pet Qwerks Newspaper:  This newspaper toy makes crinkle sounds and also has a squeaker.  You know in our house the louder the toy, the more fun it is!
PetLou Dinosaur:  Fen's been a big fan of this plush dinosaur!  He's been playing with it everyday since the box got here and Mr. Dino is holding up well so far!
FIU Grooming Wipes:  With two dogs (plus a few other pets too) you know antibacterial wipes always come in handy!
Roofle: This treat is a rawhide shaped like a waffle with natural maple flavoring.
TreatSimple Trail Mix:  These treats are made in the US from limited, high quality ingredients.  Both my dogs have been enjoying them, as you can probably tell by the bag being half empty already in the picture above!
Squeak-n-Snap: This item is really cool!  It plugs into the speaker jack of your phone.  The little teddy bear has a squeaker in his tummy to help get your dog's attention.  The squeaker also acts like a button on your phone so a few seconds after the squeak your phone will snap a picture.
Pizza Flavor Exclusively Dog Jerkeez:  My boys have tried this brand of treats before.  I like how they always have interesting flavors like pizza and tacos.
So these next two items actually aren't in the picture above, and I'll explain why...
Smokehouse Prime Slice Beef Tendon: Kit went NUTS for this item so I let him have it before I took pictures for this review.  I guess that was a mistake, because of course by the time I got my camera out the chew was gone, but I'm glad that Kit enjoyed it so much!
Kong Sport Balls:  Similar story for this item, only this one you can see for yourself.  Fen stole the 3 pack of balls before I could even open them for him.  He's been having...well...a ball with them ever since!
I think it's pretty easy to tell what the boys each liked most in this month's Pooch Perks box.  Kit loved the dried beef tendon and Fen has been having a blast playing with the Kong balls.  My favorite item would have to be the Squeak-n-Snap, although I don't feel like I quite have the hang of using it yet.  Kit's always been really photogenic but Fen is always on the go and is hard to get good photos of.  Hopefully the Squeak-n-Snap can help with that!
Thanks for reading!  If your dog(s) received this box what do you think their favorite item would be?
We've been reviewing Pooch Perks boxes for awhile now.  If this month's box isn't enough to convince you to get your dog a box of his/her own, you can check out some of our past reviews here.
We received our Pooch Perks box for free in exchange for our honest review.  As always, opinions expressed are our own and we strive to only share products we feel our audience will enjoy.  This post contains affiliate Amazon links.  To learn more, visit our Legal Stuff page.