I'm currently sitting at my computer with two sleeping dogs at my feet.  My bedroom floor is covered in tiny pieces of cardboard because Fen got into the recycling (again) and I didn't take it from him, figuring that ripping up cardboard was far from the worst thing he could be doing.  I'm waiting for our September Pet Treater box to get here, but because I doubt I'll have the motivation to take/edit pictures and write the review today, I'm posting a pack update instead.
Our house usually settles into a relaxing calm at around 2pm.  Before then, it's pretty much complete chaos.  For whatever reason the dogs' seem to have agreed that at 2pm they'll start calming down, rather than rampaging through the house like tiny Godzillas.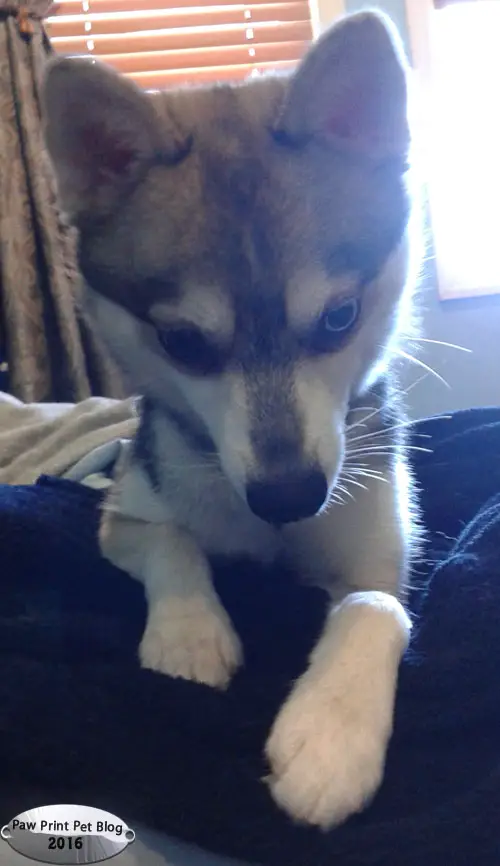 Both the pups are doing well!  The weather here has finally started to cool down, which means we've been spending more time at the park.  Most mornings I take Fen down to the field on his long line to play fetch.  Sometimes I think that boy has a tennis ball for a brain.  After he gets some of his energy out I put him back on his regular leash and we walk around a bit, usually spending some of our 1 on 1 time practicing training around all the distractions of the park.
A few times this week, in the afternoons, I've walked down to the beach with Kit - retribution for leaving him at home during our morning fetch sessions.  Two long walks a day, 3 shorter ones, plus working out is going to have me in awesome dog mom shape in no time!
Barnaby has been enjoying the nice cool weather from the comfort of his room.  He's been pretty laid back lately, spending a lot of his time napping, but at almost 10 years old he deserves all the relaxation he can get.  It's hard sometimes to see him starting to slow down, but he looks just adorable all stretched out napping in the sun spot in his room.  Plus he still gets very excited over food, runs around his room quite often, loves watching tv (despite being blind in one eye) and playing with toys.  My old guy has a lot of life left in him yet!
The gecko girls are doing well too.  I never really have much exciting to update about them.  I'm sure some people might think them boring, but after all the excitement the dogs bring to my life it's nice to have a couple of pets that are more on the low maintenance/relaxing side.
So that's pretty much it I guess.  Other than spending time with the pets I've been working and just doing boring life type things.  My fiance had a lot of time off from work last week which is why I kind of slacked on getting new blog posts up.  We got a lot of stuff done that we are usually too busy to find time for, and it was really nice for me to be able to spend time with him.  My fiance works long hours so we don't really get to spend a lot of time together during the work week.
I really can't believe that September is half way over already.  I'm happy that summer is almost officially over, since the hot weather has never been my favorite.  I hope everyone reading has had an awesome month so far and that you're enjoying the cooling weather as much as my pack and I are.  Thanks for reading!