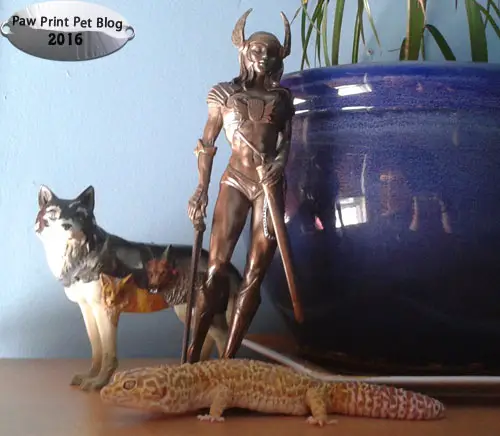 Well, belated Hatch Day, but only by a day.  Yesterday, September 20th, our beautiful leopard gecko Aurora turned 8 years old!
Aurora is our second oldest pet, right after Barnaby who will turn 10 years old in November.  But Aurora is no old lady!  Estimates of how long leopard geckos live vary greatly.  Some people say the average is only between 6 and 10 years, but other sources say, if well cared for, between 10 and 20 years is a good estimate.  Quite a range right?  The oldest leopard gecko on record, at least that I know of, passed away at the ripe old age of 32!
Male leopard geckos live longer than females, on average.  That doesn't stop me from being optimistic that Aurora will be with us for many, many more years to come.
It's hard to celebrate with a lizard.  It's not like they enjoy opening presents and birthday cake.  Instead I spent some time cleaning/rearranging the lizard tanks so Aurora and her daughter Miyuki would both have new tank setups to explore.
Happy happy 8th birthday, Aurora!  🙂