I mentioned last Friday that we were waiting for our September Pet Treater box to be delivered.  It got here Friday evening - what a fun way for the dogs and I to kick off our weekend!  Read on to see all the fun stuff we got this month.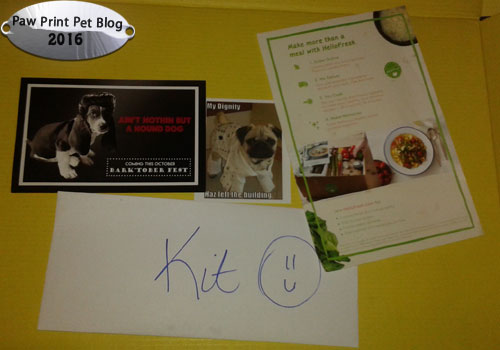 The theme of September's box was "Ain't Nothin But A Hound Dog".  Next month's theme, for anyone who might be curios, is going to be " Bark'Tober Fest".  One thing I always like to note in these reviews is that Pet Treater gives back!  For every purchase of a Pet Treater box, a shelter pet receives a new bed, blanket, or toy.  Here's what we received in our September box...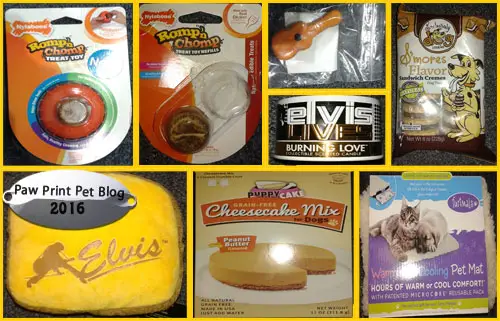 Nylabone Romp n' Chomp Treat Toy: This toy almost looks like a little orange tire.  It's designed to hold hard treats/chews to help keep your pet interested.  Fen enjoyed this toy.  He made pretty short work of the treat, but then still had fun chasing the toy around even with no treat inside it.
Romp n' Chomp Refills: This was a two pack refill for the Romp n' Chomp toy.  I thought it was really cool that Pet Treater thought to send refills!
Emmy's Gourmet Canine Creations Cookie:   This cookie was large, shaped like a guitar, and came in the flavor 'Three Cheese Pleasers".
Elvis Lives Burning Love Candle: Most pet boxes cater mostly to your pets.  Each month Pet Treater sends a little something for you too!  This month I got a 3.5 oz candle in an Elvis themed tin.
Exclusively Dog S'more Cookies: These are not the healthiest dog treats in the world, but Kit REALLY likes them.
Peanut Butter & Banana Sandwich Toy: This soft plush toy comes in two sections, connected by Velcro, so your pet can have fun pulling the 'sandwich' apart.  The bottom section has a squeaker and the top section makes a crinkling noise.
Peanut Butter Cheesecake Puppy Cake: I think I know what kind of cake Kit is getting for his birthday this year!
Furimals Warming & Cooling Pet Mat: This is a cool item.  You can either microwave or freeze the inner core then place it inside the soft fabric mat to help your pet stay cool or warm.  The mat we got is a size small, a bit too small for Kit, but it's not a bad size for Fen.  I think I might actually try using it for my senior rabbit, Barnaby.  I think he'd appreciate a warm place to lay and now that he's older I'm not really worried about him chewing on it.
I forgot to mention above that the boxes we review are for small dogs.  There are other sizes available, and prices start at just $19.00 per box depending on what payment plan you select.
I've got a new coupon code to share with you this month!  The code PT-ICECREAM will get your pup a free maple bacon dog ice cream.  The codes PT-Bed (for a free pet bed) and Love-PT5 (for $5 off) are also still active.  Just keep in mind that these codes can't be combined, so you have to pick one, and they are only valid with your first box.
We received our Pet Treater box for free in exchange for our honest review.  As always, we only share items we feel will be of interest to our readers.  This post contains affiliate links.