Happy October!  Hopefully your month is off to a great start.  The dogs got their Pooch Perks box early this month, so were able to kick of October with a box full of goodies!
Before I share everything we got I wanted to let you all know that if you sign up for Pooch Perks during the month of October you can use the coupon code PUMPKINPATCH to get 15% off! 

My boys are both under 35 lbs, so our Pooch Perks reviews are always for small dog boxes.  We receive the Pampered Pooch upgrade box.  Here's what we got in our October Howl-o-ween box!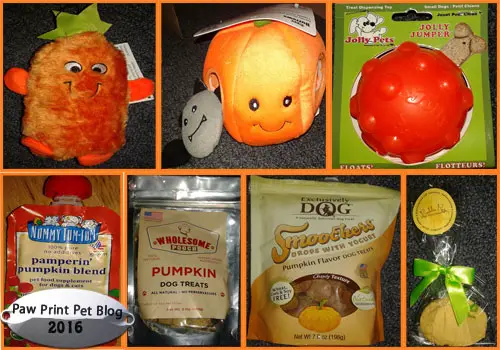 ZippyPaws No Stuffing Carrot Man: Since adding Fen to our family, I've really become a fan of stuffing free toys!  Kit is gentle with toys, but Fen likes to destroy them, and when toys have stuffing that, of course, means I have big messes to clean up.  Stuffing free toys are awesome!
ZippyPaws Puzzle Toy:  The puzzle toy we got is shaped like a pumpkin, with little bats that fit inside.  My dogs are big fans of puzzle toys.  They have fun trying to solve the puzzle and remove the smaller toys from inside the larger one, and then also love playing with the smaller toys once they get them out.  The little bats are like little squeaky balls.
Jolly Jumper Treat Dispensing Toy: Combining toys and treats, especially balls, is always a winning combination at our house.  This ball floats if you want to use it in the water, and has a hole in it where you can insert your dog's favorite treats.
Pamperin' Pumpkin Blend Nummy Tum-Tum: I used this as a food topper, which both of my dogs (yes even picky Fen) really enjoyed.  It's a USDA organic supplement made of 100% pure US grown ingredients.
Wholesome Pooch Pumpkin Treats: Our 5oz bag of pumpkin treats is already almost gone, which you know means the boys have been loving them!  These treats are also made in the US from human grade ingredients.
Exclusively Dog Pumpkin Smoochers: These treats are little round drops that are pumpkin flavored and made in the USA.  They are softer, chewy treats which my dogs both enjoy.
Bubba Rose Biscuit: This peanut butter treat was shaped like an adorable pumpkin.  Because it contained eggs I gave it to Fen.  As you can see from the video below, he was a fan!
I'm so excited that fall is here!  The fall, and then holiday, themed goodies we get in our pet subscription boxes are always a lot of fun.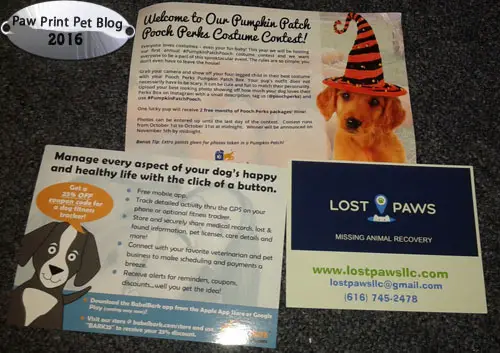 FYI, because I always used to rave about how awesome I though Pooch Perks Patriotic Pooch box (all made in the USA items) was, I wanted to let you know that I received notice that that option is being discontinued.  However have no fear, because you do have the ability to customize your Pooch Perks box by leaving comments in the Notes section during checkout.
We've been reviewing Pooch Perks boxes for awhile now.  Click here if you'd like to go back and take a look at some of our past boxes.  It should give you a good idea of the types of items you'll receive in your box each month.
We received our Pooch Perks box for free in exchange for our honest review.  As always, opinions expressed are our own and we strive to only share products we feel our audience will enjoy.  This post contains affiliate Amazon links.  To learn more, visit our Legal Stuff page.