Between ordering most of my pet supplies online, and getting items to review, I get a lot of mail for my pets!  Case in point, I'm currently waiting for a 45 lb box of hay to get here for Barnaby.  We rent an apartment in a very pet friendly building, and I'm sure, by now, everyone in our building knows that I'm completely obsessed with my pets.  I still get a bit self conscious about the sheer number of boxes that come here addressed to them.
Anxiety can be a funny thing sometimes.  I'm generally a very private person and I like that to extend to my mail.  That's one thing, among many, that I really love about Pet Treater.  I can get an awesome box full of goodies for my dogs without having to advertise it to my neighbors.  While the Pet Treater boxes themselves are brightly colored and adorable, they are shipped discreetly inside a plain shipping bag.

What's inside, though, is not plain at all!  Check out what we got in our October box...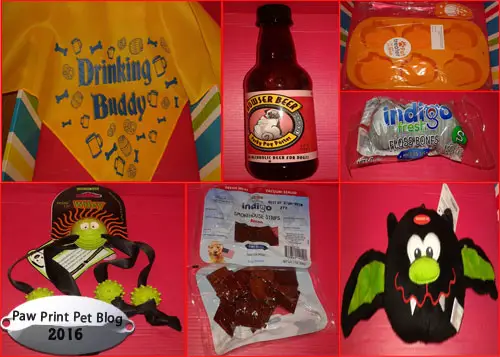 We got a Drinking Buddy bandana, a bottle of Bowser Beer, a silicone pumpkin shaped cupcake pan with a spatula, an Indigo fresh floss bone, mini Wiley toy, two bags (bacon and chicken flavors) of Indigo jerky treats, and a Grriggles bat toy.  Last but not least we got my favorite item this month, an over the door pet organizer.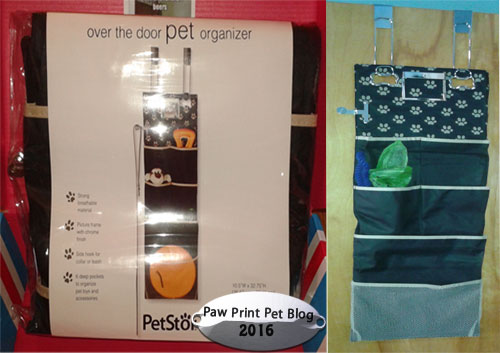 How cool is that?  I put it on one of our doors right away and have been using it to store things like treats, Fen's training toy, and poop bags - stuff I need to be able to grab quickly before taking the boys out for walks.
Both of my boys really loved the jerky treats.  I used scissors to cut the chicken flavored ones into small pieces and used them as training treats for my picky puppy Fen.  The bacon flavored ones I crammed into Kongs, which both boys went nuts for.  I haven't had time to try the muffin/cupcake mold yet but am looking forward to using it to make some Halloween goodies.  The boys like both of the toys this month, especially the plush bat, and I've been using the Bowser Beer as a food topper.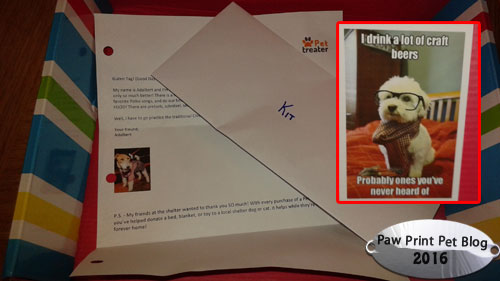 Oh I should have mentioned this before - This month's box theme was "Bark'Tober Fest".  Next month will be "Eat, Sleep, and be Thankful".  Boxes are shipped three times per month, depending on your billing date.  New themes start on the 27th of each month.
We review boxes designed for small dogs.  There are other sizes available,  and prices start at just $19.00 per box depending on what payment plan you select.  You more than get your moneys worth, imo, with this box.  Out of all the monthly dog boxes we've tried in the past, I have to admit that Pet Treater just might be my favorite.  They send toys and treats for your dog(s), of course, but also send some awesome more human geared/practical items such as the organizer that we got this month.
I've been sharing coupon codes for Pet Treater boxes for awhile now and wanted to make sure you make note that the coupon codes have changed a bit recently.  New subscribers can still use LOVE-PT5 to get $5.00 off your order or PT-ICECREAM to get a free doggy ice cream treat.  The code to get a free pet bed has recently changed...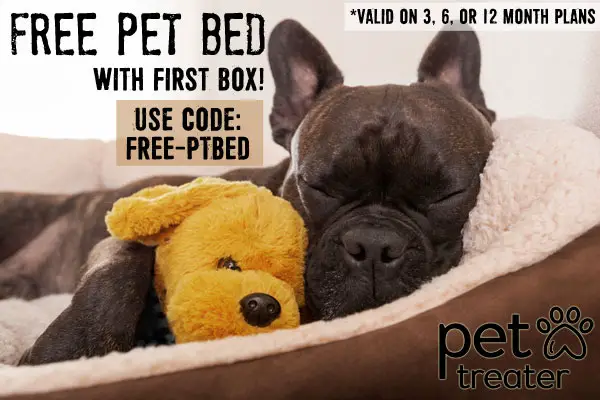 Coupons are valid on new subscribers' first box only.  Codes cannot be combined, you have to select one.  They are only valid on 3, 6, or 12 month plans.
Don't forget that Pet Treater gives back!  For every purchase of a Pet Treater box, a shelter pet receives a new bed, blanket, or toy.  Pet Treater really is a great all around dog box that, for many reasons, we really enjoy.  If anyone tries it out you'll have to comment and let us know what you think!
We received our Pet Treater box for free in exchange for our honest review.  As always, we only share items we feel will be of interest to our readers.  This post contains affiliate links.