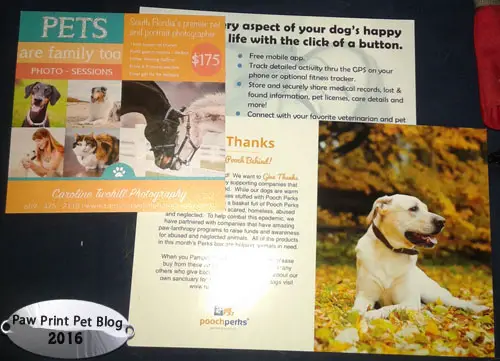 We received our November "Give Thanks" themed Pooch Perks box last week!  It's so crazy to me that Thanksgiving is this month and then, after that, Yuletide is right around the corner.  I have to apologize if my last couple of pet subscription box reviews have been on the boring side.  I know I haven't been including many (if any!) pictures/videos of the dogs.  But I do have a reason for not having them be more involved lately.
It's because I've pretty much gone into hoarder mode!  A lot of the toys/treats/etc we've been receiving I've been putting aside for the holidays.  Some of them will be wrapped up for my dogs to open.  Others will be given as gifts to friends/neighbors with pups, and everything else will be donated to our local shelter.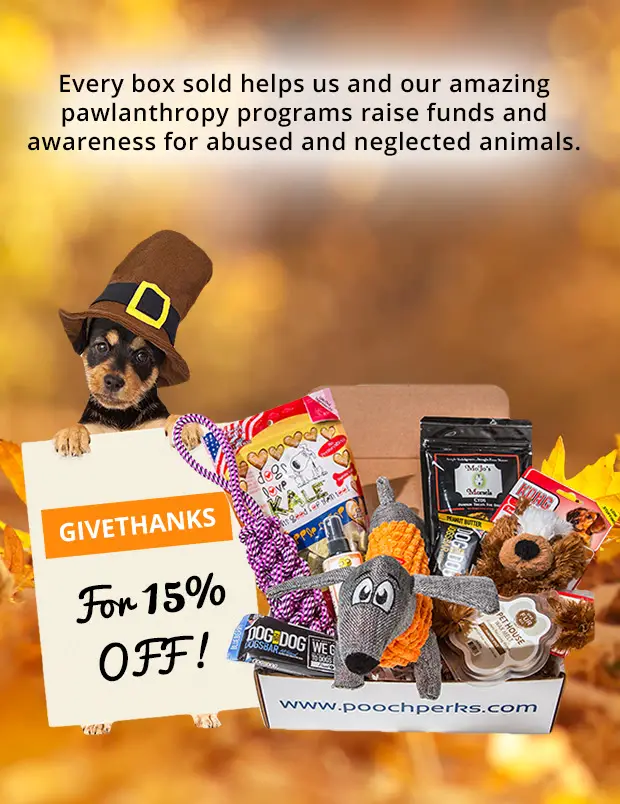 Speaking of donating to animals in need - one thing I love about Pooch Perks is that they partner with other companies and work to raise funds and awareness for homeless pets.  With each Pooch Perks purchase you are not only getting an awesome box of goodies for your own dog(s), but you're helping support animals in need as well!
Still need more convincing?  I'm going to tell you about all the awesome goodies we got in our November box.  You can also go back and read some of our past reviews.  My boys are both under 35 lbs, so our Pooch Perks reviews are always for small dog boxes.  We receive the Pampered Pooch box.  This month we received...
Dog for Dog Rope Fetch Toy:  This company donates a meal to a dog in need for every toy sold.  The toy we got is a good size and seems durable.  I love toys like this because they make awesome training toys for Fen.
Kong Teddy Bear: This toy is super soft and mostly stuffing free.  Kit has been a big fan of stuffing free toys lately.
Pet House Wax Melt:  Made of 100% soy wax, this product smells amazing!  Unfortunately I don't currently have a wax warmer to use this item, but I found some beautiful ones on Amazon that I'm eventually going to pick from.
Dogspa Aloe and Kiwi Melon Pet Spray: This item, like the toy above, is from the company Dog for Dog.  It's made in the US and smells great.
Dog for Dog Dogsbar: We got two Dogsbars - one peanut butter flavored and one blueberry.  Fen is a really picky eater and wasn't too interested in these but Kit loved them!  The bars looked so good I almost wanted to try them myself.
ASPCA Burlap and Pixel Dachshund Toy:  I think Fen is going to really love this toy, and am saving it for him for Christmas.
Dogs Love Kale Apple Crisp Treats: I was nice and at least let the boys try the treats from this month's box.  These treats must be pretty good, because even picky Fen has been enjoying them.
MoJo's Morsels Pumpkin Treats: These treats contain limited ingredients, no additives, preservatives, artificial colors or flavors, wheat, corn, soy, or by-products.
If we convinced you to try out Pooch Perks for yourself, don't forget to use the coupon code GIVETHANKS to get 15% off your order during the month of November!
We received our Pooch Perks box for free in exchange for our honest review.  As always, opinions expressed are our own and we strive to only share products we feel our audience will enjoy.  This post contains affiliate Amazon links.  To learn more, visit our Legal Stuff page.