My Papillon, Kitsune, will be 8 next month.  Coming to terms with the fact that he's getting old hasn't exactly been easy for me.  Many vets consider 8 year old dogs to be seniors.  Kit is still active and playful, but the black hairs on his face are starting to turn white, and he suffers from arthritis in his back legs.  Our vet gave us prescription pain meds (NSAIDS) for when Kit has bad days with his arthritis, but they come with a host of side effects that I'd like to avoid, if at all possible.
When we got Kit's arthritis diagnosis I started searching for healthier ways to ease his pain.  I came across turmeric/golden paste which not only seemed to help his legs, but his stomach as well.  Turmeric didn't, unfortunately, completely eliminate his need for NSAIDS.  I still give him turmeric, but continued my search for a healthier alternative to his prescription pain meds.
Enter CBD.  What, exactly, is CBD?
CBD is shorthand for cannabidiol.  If you're thinking that sounds suspiciously similar to cannabis you're on the right track.
CBD is a chemical found in cannabis.  But it's important to note that CBD cannot get you, or your pets, high.  CBD has been shown, in animal studies, to have numerous medical benefits such as reducing nausea, suppressing seizures, combating anxiety, and helping to relieve inflammation and pain.
The key here, for us, being that last point - reduction of inflammation and pain!
Arthritis is defined as inflammation of the joints.
After doing some pretty intense research I decided to try CBD hemp oil for Kit.  We currently use the brand pet.relief.  Pet Relief offers CBD in the form of hemp oil, treats, and capsules.  We've tried both the treats and the oil so far.  The treats were very hard and, surprisingly, my foodie Kit wasn't all that crazy about them.  The oil, in my opinion, is much easier to administer as I can just mix it into Kit's food or put some on a treat.
The CBD oil sold by Pet Relief is created from organically grown hemp, will not cause your pet to feel high, and is legal in all 50 US states.
Ok, but does it work?
Yes!  For Kit, the CBD hemp oil has been working amazingly well.  I was recommending it to a friend for her dog recently and described its effects as 'giving me my dog back'!
Kit's pain meds from the vet do seem to eliminate his pain, but they also make him rather lethargic.  That's not the case with CBD.  Quite the opposite, hemp oil eliminates his pain without any other side effects, so he can play pain free like he did in his younger days.
Any downsides?
CBD oil is not cheap.  The company we buy it from, at the time of writing this, sells 1 oz of 100mg oil for $39.99 or 1 oz of 300mg oil for $82.99.  How quickly you go through a bottle of oil will depend on the size of your pet and how often he/she needs it.  We're lucky that, for now, Kit's arthritis is mild and seems to flair up every now and then rather than bothering him all the time.
The thing is, though, that prescription meds are expensive too.  Not only do you have to pay to fill the script itself, but because prescription pain meds can cause so many side effects most vets will recommend you bring your pet in to be monitored more often.  Part of that monitoring process will most likely include potentially costly blood tests to check your pet's organ function.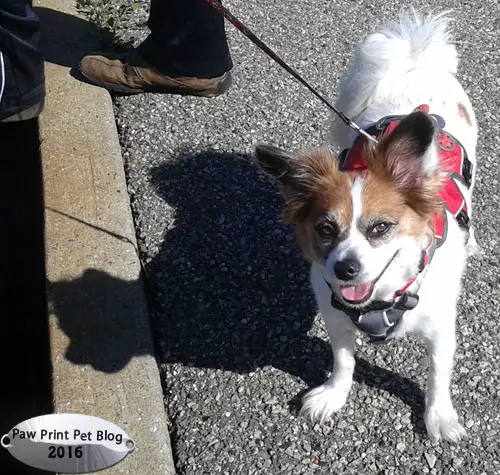 We currently use a 3 prong approach to defeating Kit's arthritis pain (4 if you count the fact that I do have his NSAIDS script on hand in case he ever needs it, which he hasn't in quite awhile now).  I give him turmeric and a joint supplement daily with his meals.  He gets his CBD oil on his 'bad days', days when I can tell his legs are feeling stiff or causing him pain.
The way I look at it, additional costs are pretty normal occurrences when it comes to aging pets.  With 5 pets, none of them getting any younger, and at least 1 or 2, depending on who you ask, being seniors, we're lucky that we haven't incurred more expenses than what we have.  Plus I just adore Kit and never regret spending money on him, especially when that money is on something that really improves his quality of life.
Have you ever used, or thought about using, CBD to help any of your pets?  If you have, did it work as well for them as it has for Kit?