I hope everyone had an awesome weekend!  I know a lot of people in the US are gearing up to celebrate Thanksgiving later this week.  It's going to be a fun week for the paw pack.  Today is my fiance, Chris', birthday!  He's working a half day then coming home early to celebrate, so after I finish this blog I have to clean the house, decorate, and bake a birthday cake.  I didn't put in for any time off this week so have quite a bit of work to get through, but I'll still be cooking a small Thanksgiving dinner on Thursday.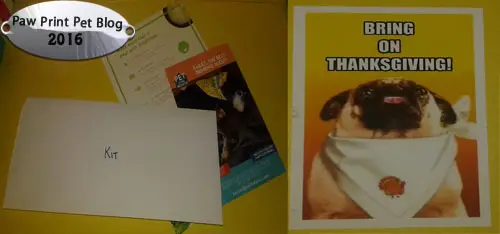 The pet subscription boxes we review really come in handy when I have lots to do.  They help keep the dogs happy and entertained while I get stuff done.  Last Friday our November Pet Treater box got here.  It was funny because, I may have mentioned this before, since Christmas is right around the corner I've been trying to hold onto stuff from our subscription boxes so that I can use them as Christmas presents for the dogs.  That didn't work out so well this month though.  I put the items from the box on my desk and over the weekend little FenFen jumped up on my computer chair, onto my desk, and stole all the stuff from this months box!
Luckily I had already taken pictures of everything!  This month's box has an "Eat, Sleep, and Be Thankful" theme.  Boxes are shipped three times per month, depending on your billing date.  New themes start on the 27th of each month.  We review boxes designed for small dogs.  There are other sizes available,  and prices start at just $19.00 per box depending on what payment plan you select.  This is most of what we received in our November box...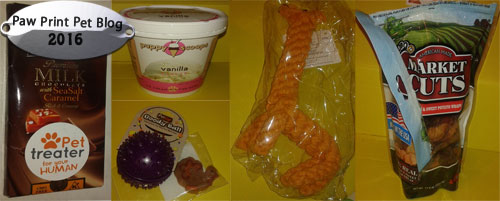 Pet Treater sent a bar of chocolate for me, Puppy Scoops vanilla doggy ice cream, a PetZip Goody Ball, Emmy's Gourmet Canine Creations turkey treat, giraffe rope toy, and a bag of Market Cuts chicken and sweet potato wrap treats.
We also received a really cute picture frame/wall plaque set...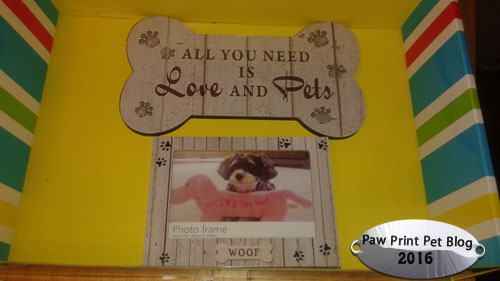 I think that was my favorite item in this month's box.  Wall space is kind of at a premium in our apartment so I haven't found a spot to hang these yet, but I think I will eventually.  I thought it was funny that while Fen was stealing the toys off my desk he tried to steal the wall plaque and put teeth marks around the edges of it.  Fitting right?  It gives my plaque more personality.
Fen has been having a lot of fun with the Goody Ball.  He's pretty obsessed with balls so I don't even have to put any treats inside for him to have fun with it.  For dogs who need a bit more convincing, this ball has spots where you can put treats.  Fen really likes the rope giraffe as well.
This ice cream I'm going to hold onto to give to Kit on his birthday next month.  The Market cuts treat I've been giving Fen in moderation.  I've found that too many of these treats in a day upset his stomach, but he's fine with one or two.  The turkey cookie I broke up into pieces to give to Fen and the chocolate ended up going to my fiance.  I usually love chocolate, but this bar was salted chocolate that was way too salty for me.  My fiance did enjoy it though!
All in all another really fun box.  Fen and I enjoyed this one.  Fen kind of hogged the toys and Kit couldn't eat the treats because of his food allergies.  But I do think Kit will really enjoy the ice cream on his birthday, and this morning he was playing a bit with the rope toy.
If you are interested in learning more about Pet Treater you can take a look at some of our past reviews.  They should give you a pretty good idea of the quality of stuff you'll receive in each box.  As always, if you are ready to order I have a few coupon codes to share.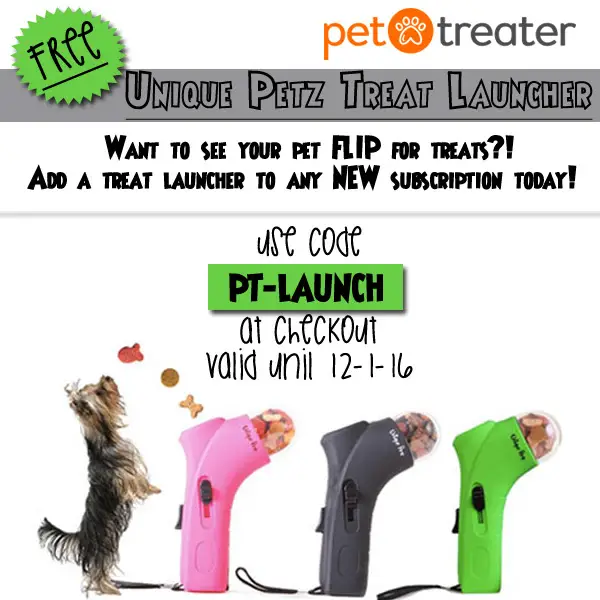 Valid until December 1st, the code PT-LAUNCH will get you a free treat launcher with a new Pet Treater subscription.  The code FREE-PTBED can be used to get a free pet bed if you are starting a new 3, 6, or 12 month subscription.  LOVE-PT5 will get you $5.00 off any subscription.  Coupons cannot be combined.
Don't forget that Pet Treater gives back!  For every purchase of a Pet Treater box, a shelter pet receives a new bed, blanket, or toy.
Well, I'm off to finish decorating and hopefully get a cake in the oven before Chris gets home!  Thanks for reading!
We received our Pet Treater box for free in exchange for our honest review.  As always, we only share items we feel will be of interest to our readers.  This post contains affiliate links.