Happy December!  Here at the Paw Print den we're finally starting to gear up for the holidays.  Normally we would already have our Yule decorations up but this year we've been slacking a bit.  It's partially due to being so busy lately, and partially due to the fact that Fenrir, our puppy, is still quite mischievous.  I have a feeling that once we put our tree up he's going to make a hobby out of trying to steal all the ornaments. 
It's not like he doesn't have plenty of toys to play with instead, but you know how puppies are.  Speaking of toys, we recently received our December Pooch Perks box!  It was packed full of goodies for the dogs, many of which I'm actually saving so that I can give them to the boys on Christmas morning.
If you don't know already, both of my dogs are little guys.  Fenrir, aka Fen, is just 10 lbs and Kitsune is 20, so we receive the small dog Pooch Perks box which is for dogs under 25lbs.  Here's what we got this month...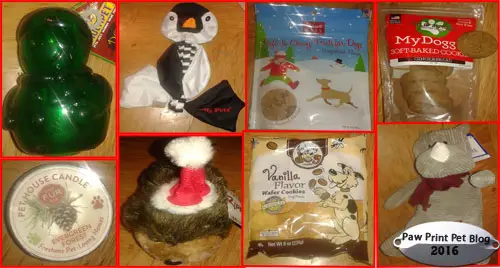 Multipet Squeaky Snow Man:  I couldn't find a link to this exact toy so linked to the Multipet page on Amazon.  The toy we got is a green rubber (I think) snowman with a squeaker.  This is the one toy from this box that I gave Fen early and he had a lot of fun with it!  He actually broke it pretty quickly - the squeaker fell out.  That sounds like a bad thing, but the toy is hollow now so I've been thinking that I could probably put treats inside to keep the boys busy.
Pet House Candle: The candle we got was a sample size, almost like a little tea candle, and came in the scent evergreen forest.  It smells so amazing that I'm considering buying the full size version in the same scent.
Jolly Pets Penguin: This cute, stuffing free toy has both squeakers and crinkle material.
Zippy Paws Santa Hedgehog: What is it about dogs and hedgehog toys?  Kit's loved these toys since he was a puppy and now Fen really likes them too.  This one will be going in Kit's stocking this year.
Cloud Star Gingerbread Treats: These adorable treats are shaped like little gingerbread men.  I haven't opened these yet but we've had them before and both my dogs really enjoy the Cloud Star treats.
Exclusively Dog Vanilla Wafer Cookies: Whenever we get treats from this brand they smell so good that I am tempted to try them myself!
My Doggy Gingerbread Cookies: These cookies are a good size, and have adorable paw print impressions on them.  This bag of treats I did open already and both my boys enjoyed them.
Foufou dog Plush Rino: How cute is this little plushy?  He looks like he's made from a corduroy type material and, of course, he has squeakers.  This is one of those plushies that is so cute I'm tempted to keep him for myself rather than giving him to the dogs.  Since Kit will be getting the hedgehog for Christmas, this little rino will probably find his way into Kit's stocking.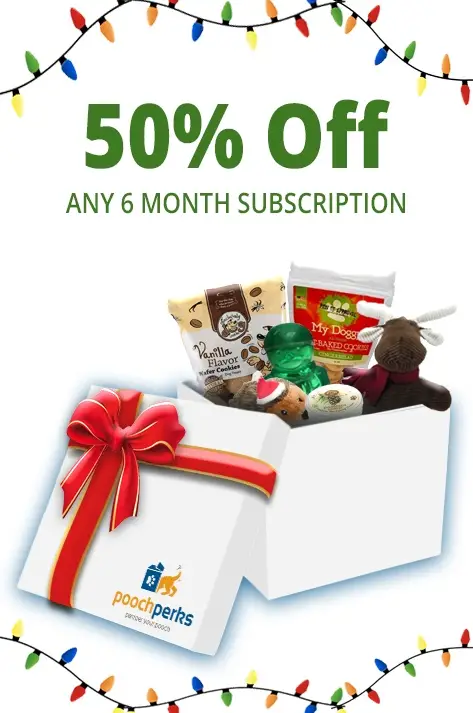 If you are interested in getting an even better idea about the type of items Pooch Perks sends each month you can check out all our past reviews here.  Ready to order?  The current coupon code gets you an awesome 50% off of a 6 month subscription!
Pooch Perks would be an awesome holiday gift for your dog - especially for the dog who has everything.  As a pet blogger I keep up to date on all the best pet products, but we often get items in our pet subscription boxes that even I wasn't aware of.  These boxes can be an awesome way to explore new types of dog products.

We received our Pooch Perks box for free in exchange for our honest review.  As always, opinions expressed are our own and we strive to only share products we feel our audience will enjoy.  This post contains affiliate Amazon links.  To learn more, visit our Legal Stuff page.