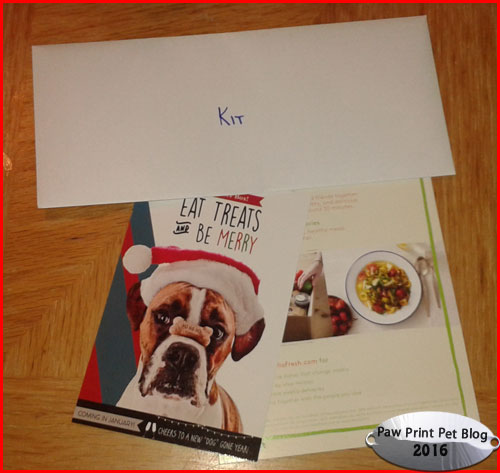 A couple days before Christmas our December Pet Treater box arrived.  I have to be honest, it arrived so close to Christmas that I wasn't really able to take a lot of good pictures of everything we got this month.  Some of the items found their way into pup stockings, one a friend's dog plundered, and a couple of others we saved for Kit's birthday.  Quite appropriately, this month's theme was "Eat Treats and Be Merry".
Here's what we received this month...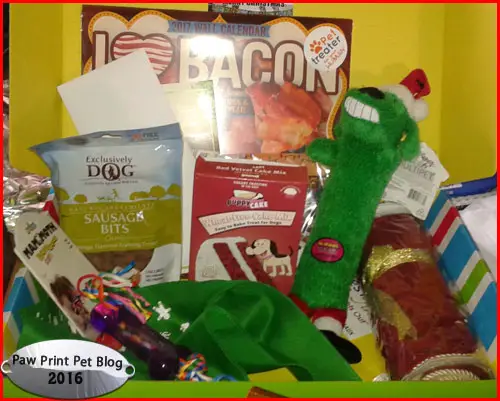 I <3 Bacon Calendar:  This was this month's "Pet Treater for your Human" gift.  I have to say, being a vegetarian this item kind of missed the mark for me, but I know lots of other people would probably get a kick out of it.
Exclusively Dog Sausage Bits:  These little sausage bits make awesome training treats!  They are small, just 3 calories per treat, making them great for if you want to work on your pup's training but don't want to overload them on extra calories.
Mammoth Flossy Chews: This was the toy a friend's dog ended up taking home with him.  He came over to visit and liked it so much we let him keep it.  It's not like my boys don't have enough toys already!
Red Velvet PuppyCake Mix: Kit's birthday was on December 26th, so I used this mix as the base for his cake.  I had to improvise a bit since the box calls for eggs and Kit can't eat eggs, but the cake still turned out well and both my dogs seemed to enjoy it.
Christmas Loofa Dog: Loofa dogs are always a huge hit at our house!  Santa left this one in Fen's stocking and out of all the gifts he got I think this might be one of his favorites.
VIP Pet Blanket: Very important pup!  The blanket we got is small, making it pretty much the perfect size to throw over our tiny pups.
Santa's Little Helper Bandana: I have a feeling Pet Treater might have these bandanas custom made, as they often send different ones.  The one we got this month was green with Christmas designs and said "Santa's Little Helper".
Pawsitively Gourmet Cookie: Last, but not least, we got an adorable frosted snowman cookie from Pawsitively Gourmet.
This box not convince you of how awesome Pet Treater boxes are?  Take a look at some of our past reviews for a better idea of the type of stuff you'll receive.  We've reviewed quite a few pet subscription boxes over the years and I have to say that Pet Treater is probably my current favorite.  Boxes are shipped three times per month, depending on your billing date.  New themes start on the 27th of each month.  We review boxes designed for small dogs.  There are other sizes available,  and prices start at just $19.00 per box depending on what payment plan you select.
If you are ready to order, this limited time coupon is good until January 12th, or while supplies last...
The code FREE-PTBED can be used to get a free pet bed if you are starting a new 3, 6, or 12 month subscription.  LOVE-PT5 will get you $5.00 off any subscription.  Coupons cannot be combined.  Don't forget that Pet Treater gives back!  For every purchase of a Pet Treater box, a shelter pet receives a new bed, blanket, or toy.
We received our Pet Treater box for free in exchange for our honest review.  As always, we only share items we feel will be of interest to our readers.  This post contains affiliate links.