Happy 2016!  I hope everyone had a fun and safe new year's eve, and that your 2017 is off to an awesome start.  The pack and I had a rather mellow new year's eve this year.  The dogs' dad and I stayed home and spent a majority of our night snuggled up with the dogs on the couch.  We made it past midnight without falling asleep, at least, although I can't say the same for Kit and Fen.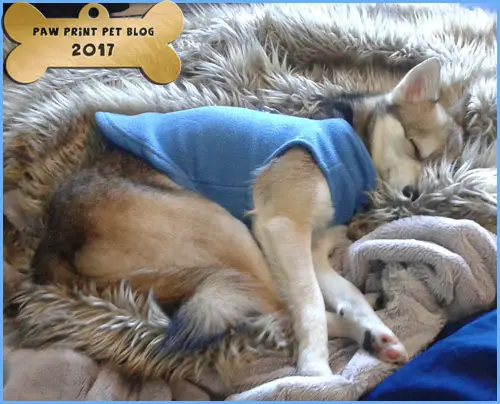 Despite the general consensus seeming to be that 2016 wasn't the best of years, our pack doesn't have much to complain about.  We made it through the entire year without having to deal with any major health issues or pet deaths.  We didn't have to deal with any overly stressful life events, like having to switch jobs for example, either.
I feel like 2016 was kind of a prep year for us.  Chris and I have both been working hard to better our future together.  We have some big plans for 2017, although none of them are specifically pet related.
As far as the pets go, it still amazes me that our little Barnaby bunny turned 10 in 2016.  He's aged so gracefully so far that we sometimes jokingly refer to him as our immortal bunny.  I am, however, painfully aware of the fact that he's not really immortal, and I am grateful for everyday I get to spend with him.
Our sweet Kitsune, my forever puppy, somehow turned 8 right before the new year started.  Luckily the fact that he's just as happy, playful, and loving as ever gives me hope that he has many, many, many more happy years to enjoy with us.  It makes me so happy to see him play and snuggle with Fen.  I'm glad he's been able to experience the joy of living with another dog.
Speaking of Fen, he's turned into quite the snuggle bug lately.  Fen hasn't always been the easiest dog to work with but, luckily, I've never been one to back down from a challenge.  Especially not when the 'challenge' is an adorable little dog.  Now that Fen is getting a bit more mature I feel like I'm really starting to see all the time and effort we put into him starting to pay off.  He's really been making me proud lately.
Both the gecko girls had a pretty uneventful, although I think pleasant, 2016.  Just before Christmas I finished up a redesign of Aurora's tank (more about that coming soon) and I'm hoping to start in on Miyuki's tank sometime in the next couple of weeks.
So what's the plan for 2017?  Most likely more of the same.  My goals as far as the pets are concerned are really just to keep everyone as happy and healthy as possible.  Our 2016 wasn't bad, but here's to hoping that 2017 is even better!
I know this post is already getting long, but I wanted to thank everyone who has helped make Paw Print Pet Blog what it is throughout the past year.  I really appreciate all of you, and wish nothing but the best for each of you in the upcoming year!