Our first pet subscription box review of 2017!  Our January Pooch Perks box got here last Friday.  The theme this month is "New Year, New You", and Pooch Perks included a handy insert of winter dog care tips.  Timely considering that it actually snowed here the day after we received our Pooch Perks box.
We've been reviewing Pooch Perks boxes for awhile now.  If you'd like to go back and take a look at some of our past reviews you can do so by clicking here.  Keep in mind that Pooch Perks currently offers boxes for small (under 35 lbs) and medium-large (over 35 lbs) dogs.  Both of my dogs are small, so our reviews are always for the small dog boxes.  This was what we received this month...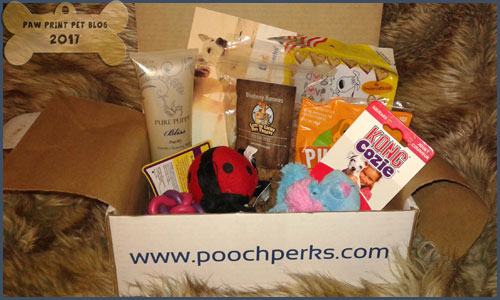 We got three bags of awesome, made in the USA, dog treats!  We received a 2 oz bag of Puptato Chips, a bag of Blueberry Yummies, and Dogs Love Kale Tropical Delight treats.
We also received an 8 oz bottle of Pure Puppy Bliss purifying dog shampoo.  It's made in the USA from 90% certified organic botanicals and is biodegradable, hypoallergenic, and cruelty free.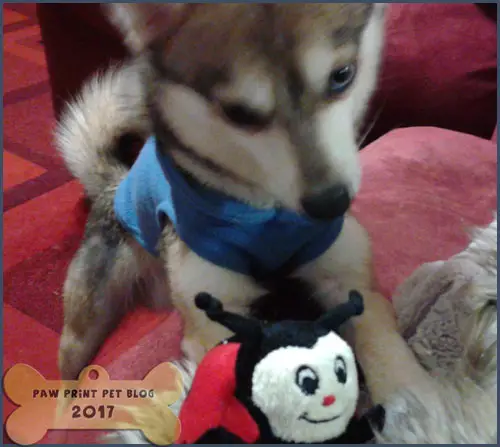 Lastly we received three new pet toys!  Fen has been pretty obsessed with the Zippy Paws lady bug toy.  Not surprising, since it is pretty much a plush ball.  This toy makes me laugh because even though it is clearly a lady bug, when you squeeze it it makes a sound that sounds like a chirping bird.
The other toys included a plush Kong Cozie that is amazingly soft, and a rubber (I think) Ruff Enuff Nobbly Wobbly ball.
If you are ready to take the plunge and order a 1 year Pooch Perks subscription, for a limited time you can receive your first box for just $1.  Not ready to commit to a full year yet?  In addition to 1 year subscriptions, you can also purchase 1, 3, or 6 month subscriptions.
Here's a little hint - on the Pooch Perks box website you have an option to 'Get a Box' or 'Give a Box'.  If you sign up using the 'Get a Box' option your 1 month subscription will automatically auto renew each month.  However, if you use the 'Give a Box' link instead, your subscription will not be set to auto renew and you will have the option to purchase a 1, 2, 6 month, or 1 year subscription package.
We received our Pooch Perks box for free in exchange for our honest review.  As always, opinions expressed are our own and we strive to only share products we feel our audience will enjoy.  This post contains affiliate Amazon links.  To learn more, visit our Legal Stuff page.