After the morning I had, it's so nice to be able to sit down at the computer and 'relax'.  By relax I mean tell you all about our latest Pet Treater box!  Perhaps not the most leisurely of activities, but it beats cleaning excavator clay, destined for a gecko tank, off of just about every surface of my apartment.  Yeah, that happened.
Perhaps that's a story for another day?  I will say that the geckos themselves played no part in this mornings festivities, just the clay that I was hoping to use in their tanks.  I wouldn't want anyone to think that the gecko girls were in any danger.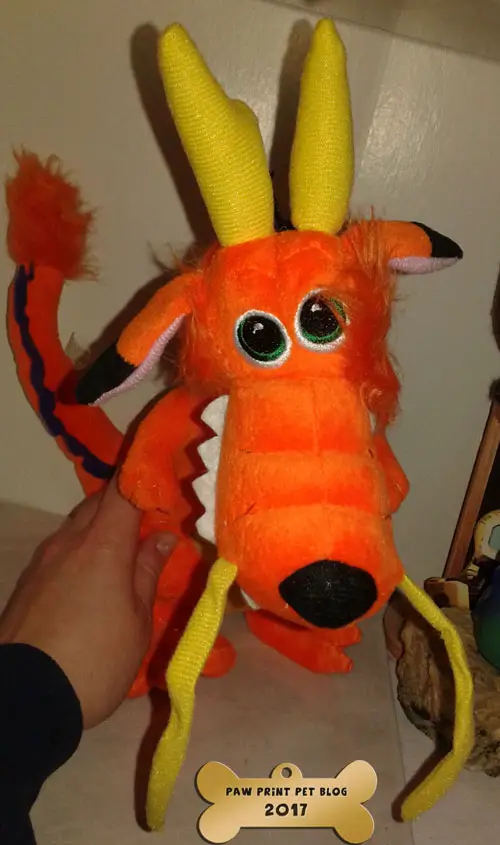 It's days like today when I'm most thankful for all the dog toys that so often litter our floor.  My boys still, occasionally, get themselves into trouble, but more often than not they'll entertain themselves by playing with toys rather than high up buckets of wet sand.  When we only had Kit our dog toys enjoyed much longer lifespans.  Kit is gentle with toys, while Fen, on the other hand, lives to destroy them.
That's one of the things that makes monthly pet subscription boxes so awesome - new toys every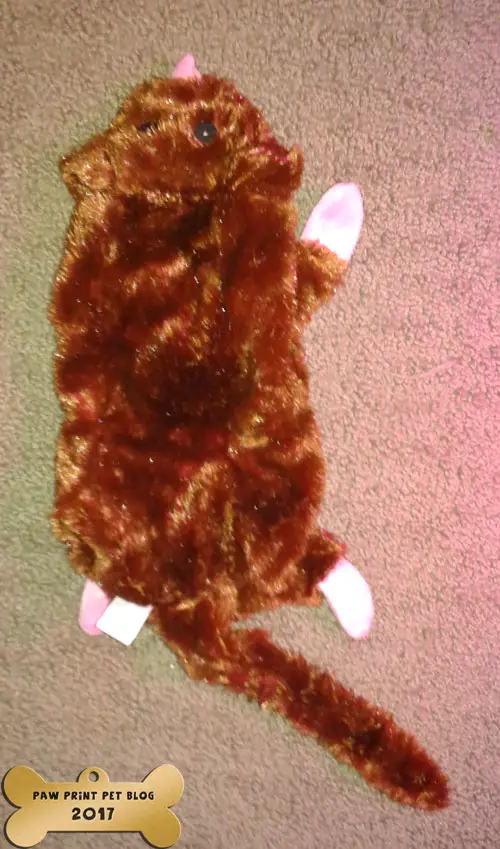 month!   We got two toys in this months Pet Treater box.  One is an adorable orange dragon that I was tempted to keep for myself rather than give to the dogs.  The other is a stuffing free toy.  Since Fen, our resident toy destroyer, joined the family I've gained a new appreciation for stuffing free toys.
Forget about the toys, what about the treats!?  For most dogs toys last awhile, much longer than treats do.  If your dogs go through treats as quickly as mine do then getting them delivered monthly can really come in handy.  This month Pet Treater sent us a 3.5 oz bag of To Doggy With Love chicken meatball treats, as well as a 5 oz bag of Smart n' Tasty Littly Duckies treats.
Both bags of treats are made in the US.  Since they both contained poultry Kit couldn't try them, but I've been using them as training treats for Fen.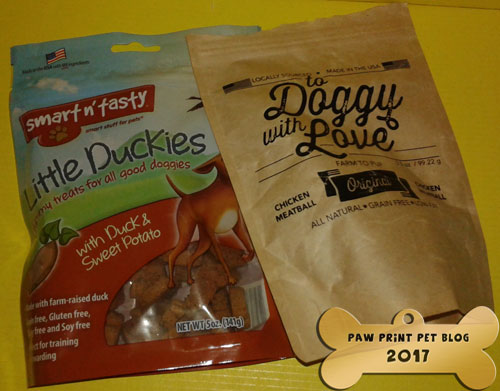 And the box doesn't end there!  Last, but not least, we received a ShedMonster undercoat rake, some FreshSolutions pet carpet wipes, and a bag of vegetarian gummy candies for me!  This is usually the type of stuff we receive in our Pet Treater boxes that I enjoy most.  Each month they send a small gift for you, which is something no other dog box I've tried does.  They also often send dog related items like cleaning and grooming supplies.  I'm excited to try our new undercoat rake on Fen when he starts blowing his coat again, and you know with two dogs any type of cleaning product will always come in handy at our house!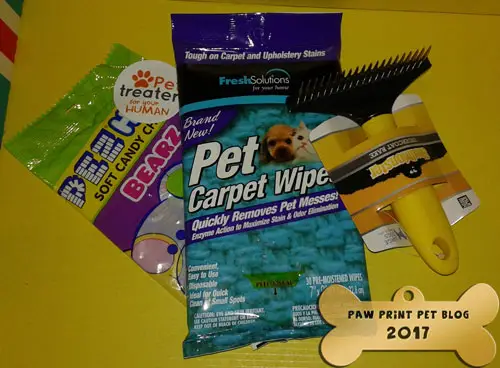 Pet Treater used to ship out their themed boxes three times per month, with each persons ship date being based on when they started their subscription.  Recently they updated their shipping schedule so that all boxes go out around the same time, closer to the beginning of each month.  The shipping change shouldn't be a big deal to most people, although I for one was happy with the change.  I used to always receive my boxes near the end of each month, but now I'll get them much earlier.
If you're on the fence about whether or not you want to try Pet Treater out for yourself why not take a look at all of our past reviews.  They should give you a better idea of the type of stuff you'll receive each month.  If you decide to order make sure to check back here because each month we share new coupon codes.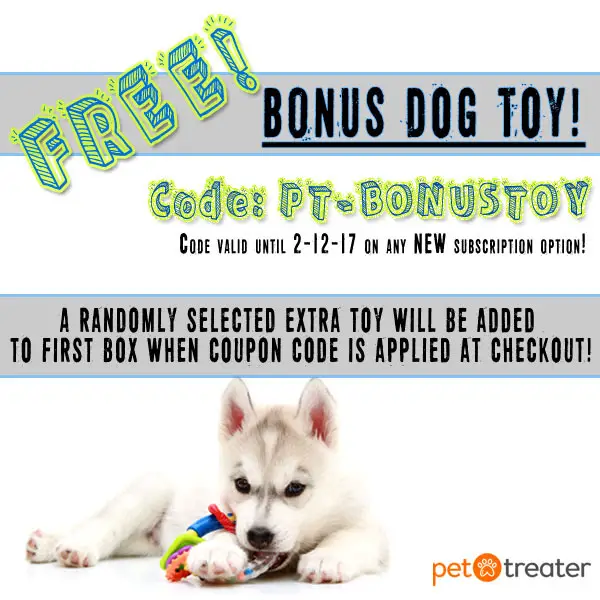 The code FREE-PTBED can still be used to get a free pet bed if you are starting a new 3, 6, or 12 month subscription.
We review boxes designed for small dogs.  There are other sizes available,  and prices start at just $19.00 per box depending on what payment plan you select.  Don't forget that Pet Treater gives back!  For every purchase of a Pet Treater box, a shelter pet receives a new bed, blanket, or toy.
We received our Pet Treater box for free in exchange for our honest review.  As always, we only share items we feel will be of interest to our readers.  This post contains affiliate links.