Love is in the air!  Valentine's Day is less than two weeks away, and now we can celebrate with the help of our Pooch Perks 50 Shades of Ruff box.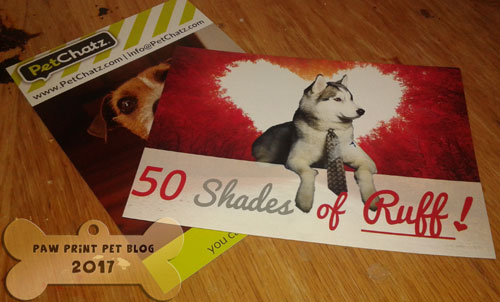 Before we get into what we received in this month's box, remember that you can also check out our past Pooch Perks reviews to get a better general idea about the type of stuff you'll receive in your box each month.  Or, if your interested in learning more about other available pet subscription boxes, including some geared towards animals besides dogs, check out our list of pet subscription boxes.

Our Pooch Perks boxes have generally been an awesome balance of dog toys and treats.  This month we received four doggy eatables.  We got a container of Healthy Dogma Jamaican Bacon Flavor Barkers, Sally Snacks Venison Jerky, Down Dog Snacks Appleberry Zensations treats, and a small bottle of Dog Wine Fetch Me Noir.
FYI the Dog Wine does not contain any alcohol.  The Healthy Dogma and Down Dog Snacks are both heart shaped, making them perfect for Valentine's Day.  The venison jerky strips are probably the treats that fit in with this month's theme the least, yet they are by far the fan favorite around here.
How cute are the toys we got in this month's box?  Fen especially loves the Multipet stuffing free toy.  It was the first thing he grabbed out of the box when we first opened it.  We also received a Spunky Pup Squeaky Gem toy, which is basically a gem heart shaped rubber toy.  It floats, squeaks, and bounces!  Last, but not least, we got a Zippy Paws plush that looks like a bear with adorable hearts on his cheeks.

The boys both seemed very happy with this month's Pooch Perks box.  Fen, as usual, gets excited about the toys while Kit is more of a treat type dog.  He was able to try 3 out of the 4 treats we received in this month's box, which is awesome.  Kit, for anyone who doesn't know, has food allergies so we have to be careful with what we let him eat.
Anyone interested in trying out Pooch Perks can currently use the code Ruff14 to get 14% off your order!
I'd love to hear from you!  Have you ever ordered Pooch Perks boxes for your dog?  Are you doing anything fun to celebrate Valentine's Day with your pets?
I'm not planning on getting my animal pals any gifts other than what they receive in their February subscription boxes.  I'd like to say that we'll still have treats left by Valentine's Day, but the way the dogs have been going through them I'm not sure they'll last that long.  At least they'll have the toys to play with!
We received our Pooch Perks box for free in exchange for our honest review.  As always, opinions expressed are our own and we strive to only share products we feel our audience will enjoy.  This post contains affiliate Amazon links.  To learn more, visit our Legal Stuff page.