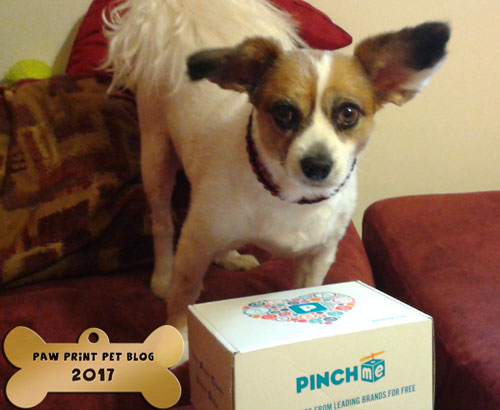 Until recently, I had never heard of the company PinchMe.  Basically they are a company that will send you a box full of free product samples in return for your honest feedback.  I'm the type of person, as I'm sure many of you are, who enjoys trying out new products - especially if I can try them for free!  A PinchMe rep recently reached out asking if we'd help promote their Puppy Palooza giveaway, which was how I originally heard about the company.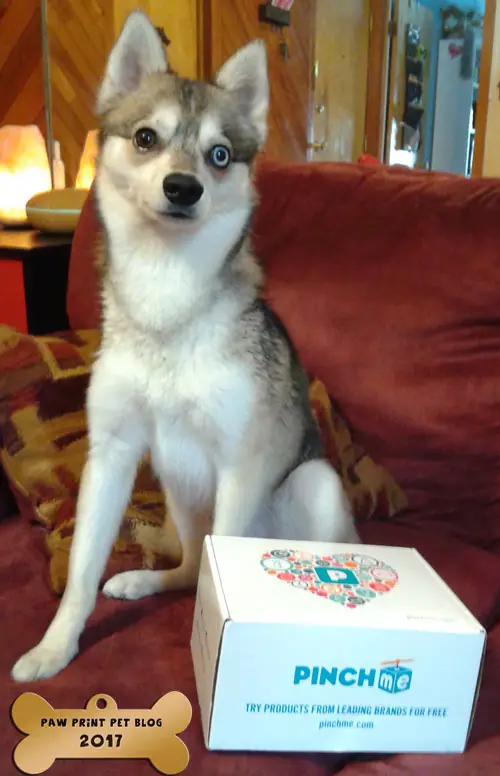 To give me a better idea of what PinchMe is all about, the company kindly sent me a box to check out.  It contained some cool items, including two dog food samples, a cleaning/dish rag, some shower gel, facial cleanser, and lotion.  Probably my favorite item, although not dog related, was a full size lip gloss and eye liner.  Ya know, once in awhile us dog moms like to look nice too!
The dog food samples I'm most likely going to pass on to a friend, or perhaps donate to our local shelter, mostly because both my dogs are already on foods that their doing really well on and I don't want to mess with that.  But PinchMe will most likely be including more dog themed samples in the future, I'm sure some of which would come in handy for us.
When you create a PinchMe account, there are simple surveys you can fill out that will help the company tailor free samples to your lifestyle.  Of course there is a pet survey, so you can tell PinchMe all about your furry friends.
Or hey, if you decide that none of the samples really speak to you, Fen says that's ok, because the box everything comes in is really fun too!
If you are interested, you can sign up for PinchMe and enter their Puppy Palooza giveaway before February 28th.  The grand prize winner will receive a $1,000 shopping spree plus 12 months of either PunchMe boxes, or 12 months worth of dog food!