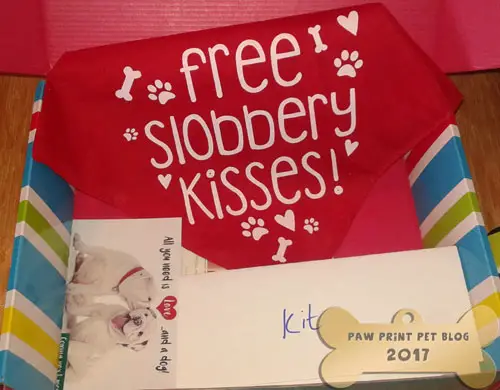 I try not to be the type of person who wishes life away, but I have to say that I'm looking forward to the end of February.  After Valentine's Day, which was very low key for us this year, February isn't usually the most exciting of months.  Earlier this week we received our February Pet Treater box, which did help bring a bit of excitement to an otherwise laid back February day.
The theme of this month's box was "All you need is love...and a dog!"  Hey, if you have a dog I'm sure you've got the love thing covered.  Especially if you're giving them Pet Treater boxes!  My boys both get so excited when their monthly goodies get here.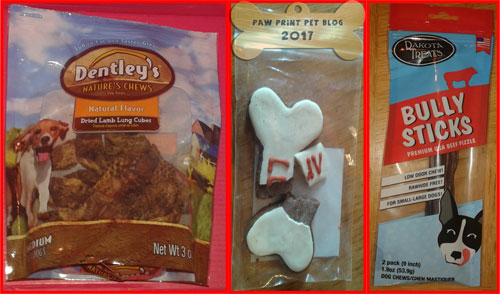 This month they got three treat type items.  The first one was a bag of Dentley's dried lamb lung cubes.  Both my dogs, even picky Fen, have been enjoying these.  We also received a carob peanut butter crunch cookie from Emmy's Gourmet Canine Creations.  Our treat came broken, but conveniently into two pieces so I could give a piece to each of my dogs.  Last up we got a two pack of Dakota Treats bully sticks.  Bully sticks are always a big hit around here.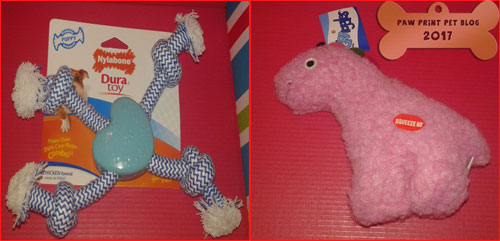 One thing I can say about Pet Treater is that if you don't want to give your dog(s) new toys, it might not be the box for you.  I'm always a bit embarrassed to admit that my dogs currently have 4, yes 4, toy boxes brimming with toys.  I keep telling myself that when I receive subscription boxes to review that I'm going to donate the toys rather than giving them to my dogs.  Yeah, that almost never works out.  Kit and Fen see the toys and it's game over.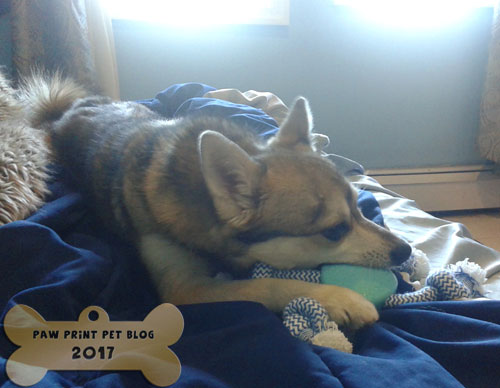 Especially Fen.  He's usually the one who will see new toys sitting on my desk or the counter and then start scheming ways he can get to them.  This month the dogs ended up getting both the toys in our Pet Treater box.  Fen spazzed out for the Nylabone Dura Toy and has been carrying it around the house with him for days now.  The package said that it's for teething puppies but I guess we won't tell Fen that.
The other toy we got was a really cute berber dino from Grriggles.  For some reason both my dogs really like berber toys.  We have a few of them here already, but they are some of the toys my dogs play with most.

Lastly we received the really cute bandana pictured in the first picture in this post, a book titled How Smart is Your Dog?, a pair of Adirondack socks, and a Furminator hair roller.  I haven't had a lot of time to read the book, but it looks really cute.  The socks, since they were on the large side, I gave to my fiance.  Dog knows my boys have destroyed enough of his socks over the years, so I didn't feel bad not being able to wear the socks myself.  The fur collection roller couldn't have come at a better time.  Now that the weather is starting to warm up Fen has started shedding more.  I have a feeling a coat blowing event is eminent, meaning we're going to be swimming in Fen fur soon enough.
Don't forget that Pet Treater really helps to spread the love!  For every box purchased, Pet Treater donates a bed, toy, or blanket to a shelter dog or cat (I suppose cats need love too 😉 ).  The code FREE-PTBED can still be used to get a free pet bed if you are starting a new 3, 6, or 12 month subscription.
We review boxes designed for small dogs.  There are other sizes available,  and prices start at just $19.00 per box depending on what payment plan you select.  Not sold on Pet Treater based on this month's box?  You can click here to check out some of our past reviews.
We received our Pet Treater box for free in exchange for our honest review.  As always, we only share items we feel will be of interest to our readers.  This post contains affiliate links.