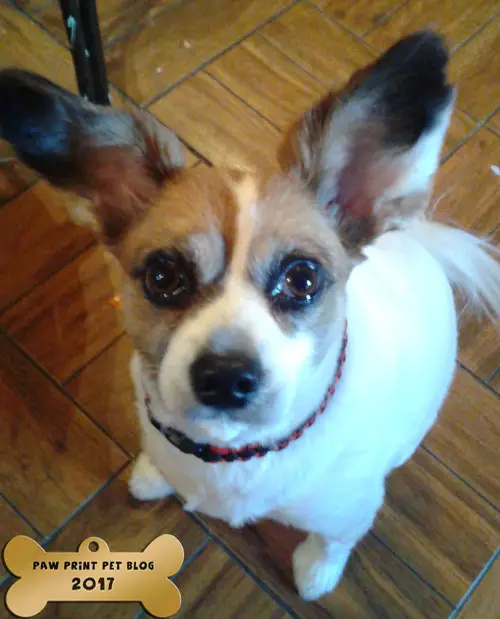 I had another post planned for today (our March Pooch Perks review) but then remembered that today is a very special day!  Today is the 8 year anniversary of the day that Chris and I brought Kitsune home.
We know Kitsune's birthday, it's December 26th, so normally celebrate his birthday rather than the day we brought him home.  But not doing much to celebrate doesn't mean that today isn't a really special day for me.  My life changed 8 years ago today.
Kitsune is the first dog that my fiance and I raised on our own.  Since I was a kid I had always wanted a Papillon, a want that intensified the closer I got to completing my college degree.  Right after I graduated from college Chris and I moved in together.  We selected our apartment mostly due to the liberal pet policy, and the fact that not only did we know we wanted to get a puppy, but I already had a few pets including Barnaby.  A few pets, my clothes and computer, and not much else.
We didn't even have a couch, or a bed.  But, priorities!  It was time to find our puppy!  By late February we were still sleeping on an air mattress, but were also shopping for supplies for our new puppy.
I'm sure I made mistakes with Kit, he was our first dog after all.  Despite not knowing even close to everything I know about dogs today Kit grew up to be the most amazing, loving dog.  He is gentle, friendly, smart, and sweet.  I tell people that Kit has never met a stranger.  Give him any small amount of attention and he'll act like you and him are long lost best friends.  He's amazing with strangers, kids, small animals, you name it.  In the past 8 years he's patiently helped me care for our other animals, everything from tiny little leopard geckos to our newest addition, our puppy Fenrir.
Kitsune has been our constant companion through it all over the past 8 years.  He was at the park with us when Chris proposed to me.  He kept us company when hurricane Sandy hit and we had to go a week without electricity.  He watched Miyuki hatch with me, and helped to cheer us up when other pets have passed.
Kit helps me with my anxiety, keeps me company when Chris has to work long hours, and never fails at making me smile.  He was the inspiration behind this blog, the reason why I've been able to spend the past 6 + years writing about something I'm passionate about, and connecting with other pet owners who feel the same way.  Because of him I never find myself without a snuggle buddy, hiking partner, and I never, ever have to pick up dropped food (unless it's chocolate).
So here's to Kit, the giant papillon, my forever puppy!  8 years ago today we were just getting to know him.  Today he is an integral part of our family that I would be lost without.  Happy gotcha day Kitsune!