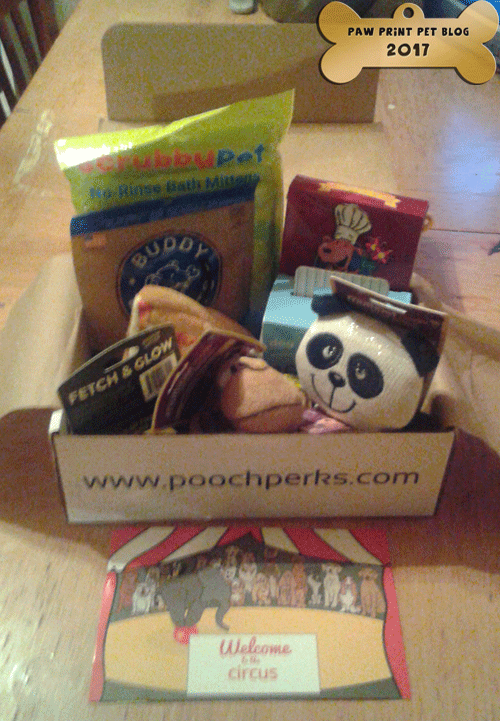 Last week we got to kick off the month of March with the latest Pooch Perks box!  The theme for March was "Welcome to the Circus", and an insert included inside the box gave tips for helping your dog become more active as the weather starts to get nicer.
Although, I have to say the weather where we live has been a bit bipolar.  We'll have one day of warm, sunny, 70*f weather and then a few days later the temperature will drop below freezing with snow flurries.  Of course we take advantage of the nice weather when we have it but when we don't, it's nice to have ways to entertain the dogs indoors.  If your dog likes toys and treats pet subscription boxes can be a fun way to help keep them entertained when the weather keeps you trapped in the house.
I know to some it might sound weird that I said that treats can be a form of entertainment.  That's because a majority of the treats we receive in our subscription boxes I use as training treats.  Most people know that dogs need plenty of physical exercise, but they greatly benefit from mental exercise as well!  In fact, I've found that using their brains and working for yummy treats seems to exhaust my dogs almost as much as physical exercise.  Plus, training is a great way to not only have a better behaved dog, but to bond with your dog as well.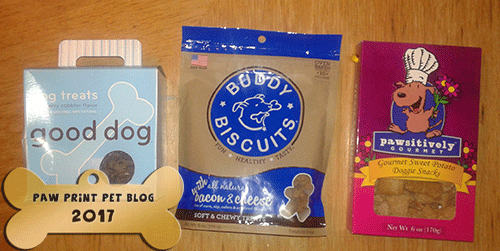 This month we received three types of treats in our Pooch Perks box.  Awesomely enough, we've found that two out of the three work awesome as training treats.  The Sojos Good Dog blueberry cobbler treats are small and easy to break into pieces, which is something I look for in a training treat.  We got a 8oz box of treats which is a pretty standard size as far as dog treats go, but because the treats are small you feel like you are getting more treats compared to what you'd find in a typical 8oz bag.
The Buddy Biscuits bacon and cheese treats have a nice soft texture that my dogs seem to enjoy, and are also easy to break into small pieces for training purposes.  Both my dogs, even my food allergy dog Kitsune, can eat these treats and they both, even my extremely picky puppy, seem to really enjoy them!
The box of Pawsitively Gourmet sweet potato doggy snacks don't work quite as well as the others as training treats.  They are hard treats, so not as easy to break into pieces, and for whatever reason Fenrir doesn't seem to like them.  Luckily Kitsune does!  The perfect training treat they may not be, but these treats are all natural, made in the USA from USA grown ingredients, and absolutely adorable.  They come in fun shapes like little hearts, dogs, and bones and each have a cute phrase on them like "licks", "wags", and "hugs".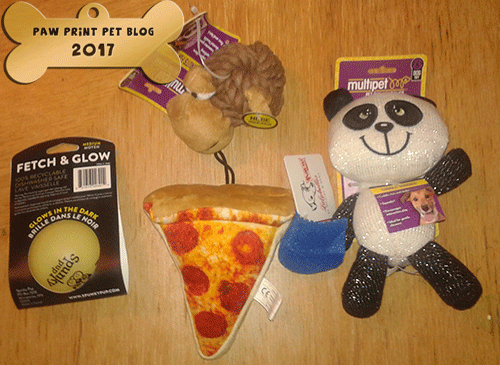 Besides all those awesome treats, our Pooch Perks box was crammed full of fun toys this month!  Fenrir is a ball fiend, so you know his favorite item in this month's box was the Fetch & Glow glow in the dark ball.  He also really likes the Multipet Nuts of Knots rope monkey, again probably because it's pretty much a ball.  We also received a Lulubelles pow-er pizza toy.  Every time I see one of the boys walking around with this toy it cracks me up.  Lastly we received an adorable multipet cuddle buddies panda plush.  I don't know if this is the strongest toy in the world, but Kitsune quickly claimed it to add to his teddy collection.  Luckily Kit is very gentle with his toys, the poor bear probably wouldn't have lasted long had Fen taken more of an interest in it.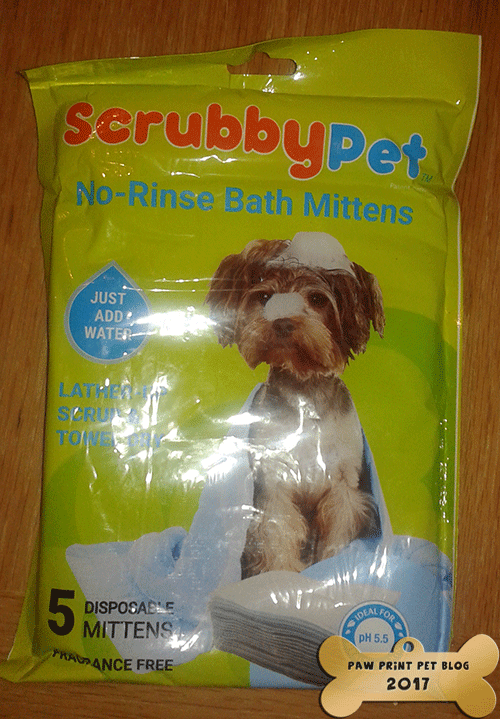 Lastly we also received 5 disposable no-rinse bath mittens.  I haven't had a chance to use these yet because I'm usually good about keeping up with my boys' bath schedule, but these would probably be great for in between baths or maybe even to keep in your car to use after hiking/camping.  I love when pet subscription boxes include items like this along with the more typical treats and toys.
I have to say we really enjoyed this month's Pooch Perks box!  The treats were a hit, the boys have been having a blast with the toys, and I got a new type of grooming product to try out.  I wanted to point out, for any Pooch Perks veterans, that the company recently underwent some changes.  Box prices now start at just $11.95 for a sample box and range from $11.95 to $34.95 for a completely custom box.   When checking out, you can select to receive a standard Popular Pooch box or customize your box yourself!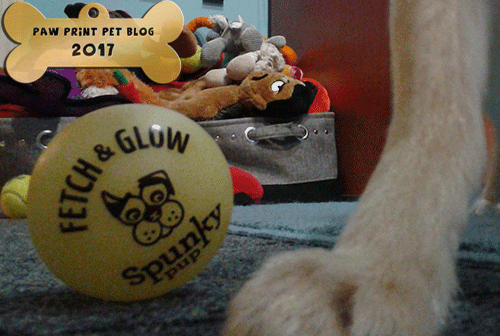 You can now also receive your box bi-monthly or quarterly instead of just monthly.  Pooch Perk boxes now come in more sizes, including Little Bit for dogs under 10 lbs, Small for dogs between 10 and 40 lbs, Medium for dogs up to 70 lbs, and Large for dogs over 70 lbs.  You can also receive a mixed box if you have dogs that are not all in the same size range.
Pooch Perks also now offers specialty boxes that currently include a Welcome Home Puppy Kit and a Birthday Box!  Make sure to check out the recently updated Pooch Perks website for all the awesome new features.  You can currently use the coupon code CARNIVAL to get a $5 discount on your first box.  Not convinced that Pooch Perks is right for you?  You can go back and check out some of our past reviews by clicking here.  We've had a lot of fun with Pooch Perks boxes in the past, and I only foresee the company getting better!
We received our Pooch Perks box for free in exchange for our honest review.  As always, opinions expressed are our own and we strive to only share products we feel our audience will enjoy.  This post contains affiliate Amazon links.  To learn more, visit our Legal Stuff page.