Do you love your pup, want to spoil him/her, but don't need a huge box of treats/toys every month?  We love pet subscription boxes here in the paw pack house, but now that we've filled 4 good sized toy boxes to overflowing, I totally get wanting to err on the side of moderation when it comes to new dog toys.  That's where the Mini Monthly Mystery Box for Dogs comes in! 
Put together by The Daily Deal, the Mini Monthly Mystery box costs only $9.99 a month!  Each 'box' (our review box was actually a shipping bag) will contain at least one bag of treats, all made in the USA or Canada, and one toy.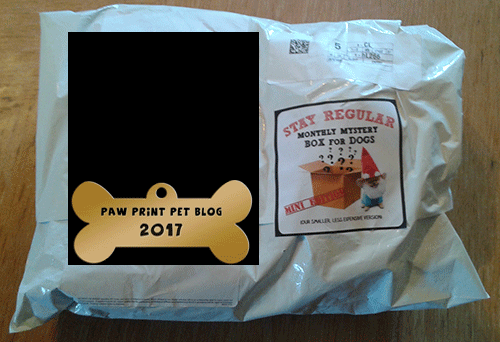 Boxes ship between the 20th and 25th of each month.  The $9.99 fee includes shipping, so you don't pay anything extra.  Here's what we received in our March 2017 mini box...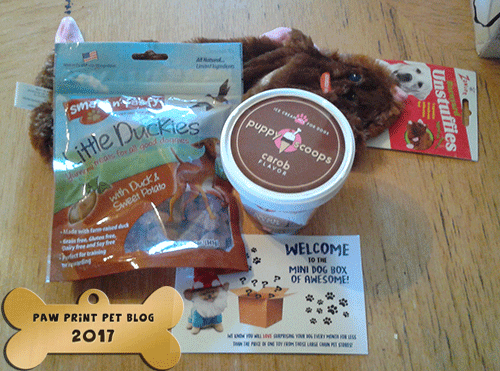 We got a 5 oz bag of Little Duckies dog treats, Puppy Scoops carob ice cream, and a Zanies Barnyard Unstuffies toy.  A pretty good selection, I'd say, and I calculated the value of everything, based off of current Amazon pricing, to be $23.85 - making the value of this months box a little bit over double the $9.99 you'd pay for it.
This subscription box is new, but I think has a lot of potential.  It'd be especially awesome for dog owners who, like I mentioned above, want to spoil their dogs but don't necessarily need a big box with multiple toys/treats.  You can click here to get a Mini Mystery Box for your own dog.  For $9.99 a month you can't really go wrong, and of course you can cancel your subscription anytime.  If you try this box out for yourself stop by and let us know what you think!
Disclaimer: This post contains affiliate links.  You can visit our Legal Stuff page for more info.  As always, we strive to only share products we feel will be of interest to our readers.