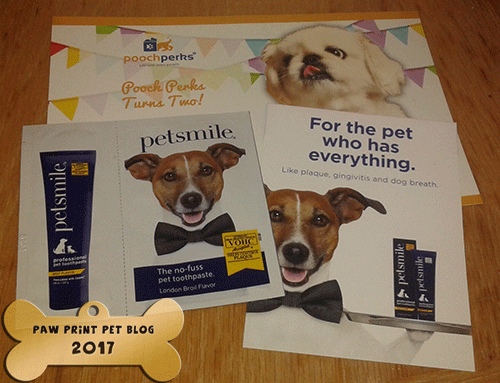 Happy April!  Hopefully everyone survived April fools day unscathed.  I'm not really a big fan of April fools day to be honest, so other than dealing with the pets' typical mischievousness there weren't any pranks played in the Paw Pack house.
Hopefully you guys will tell me if you start getting sick of my pet subscription box reviews.  We've been doing 3 of them a month the past couple of months which I know is a lot, but the reviews continue to get a lot of views so hopefully that means that at least some of you are finding them useful.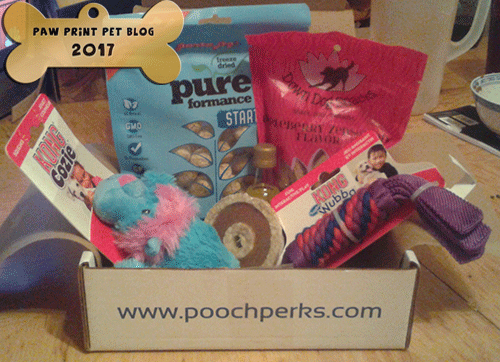 Our Pooch Perks box usually get here pretty early in the month, so get to be our first box reviewed each month.  This month's box, in celebration of Pooch Perks' second birthday, was full of staff member's favorite items.  We got a sample of Petsmile dog toothpaste, which I'm hoping maybe my dogs will like more than their current toothpaste.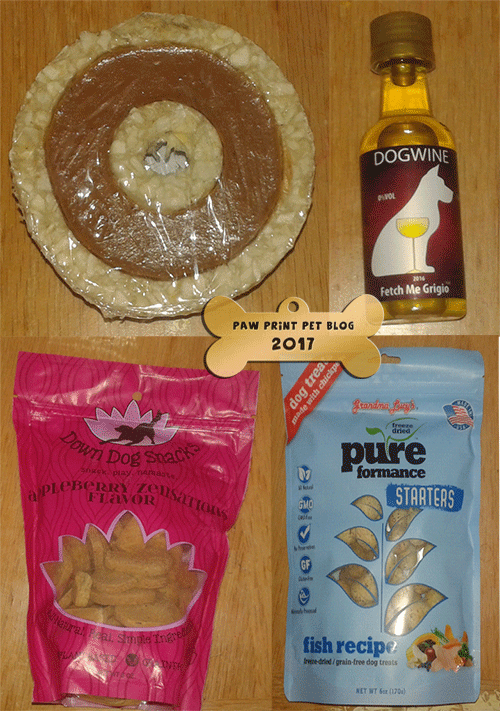 In case your dog needs some extra incentives to brush his/her teeth, how about some tasty treats to get them dirty first?  We received a Barn Bagel peanut butter flavored rawhide treat, a bottle of Dogwine, an 8 oz bag of Down Dog Snacks, and a 6 oz bag of Grandma Lucy's freeze dried fish treats.
We've been going through dog treats like you wouldn't believe lately.  I've been picking up a lot of extra hours at work lately.  I normally like to make my dogs homemade treats, but with a stricter schedule and less free time I've been happy to use treats we get in our subscription boxes, so that I can spend time playing with the dogs rather than cooking for them.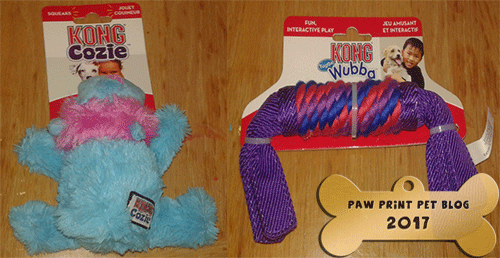 Speaking of play, we got two toys in our April Pooch Perks box too!  The first was an adorably soft Kong Cozie squeaky toy that Fen just adores.  We also got a Kong Tugga Wubba, which the boys have been having fun using as a tug toy.
If you've received Pooch Perks boxes in the past, or researched them before, I wanted to note that the company recently updated their website and made some changes to their box options.  You can now opt to receive Pooch Perks' standard box, which is what we review here, or customize your box to fit your dog's special needs.  They also now offer specialty boxes, which currently include birthday boxes and welcome home boxes for new puppies.  Prices range from $19.99 to $35.95 per month depending on your customization selections.
Ready to try them out for yourself?  Use the code below to get 50% off your first monthly box!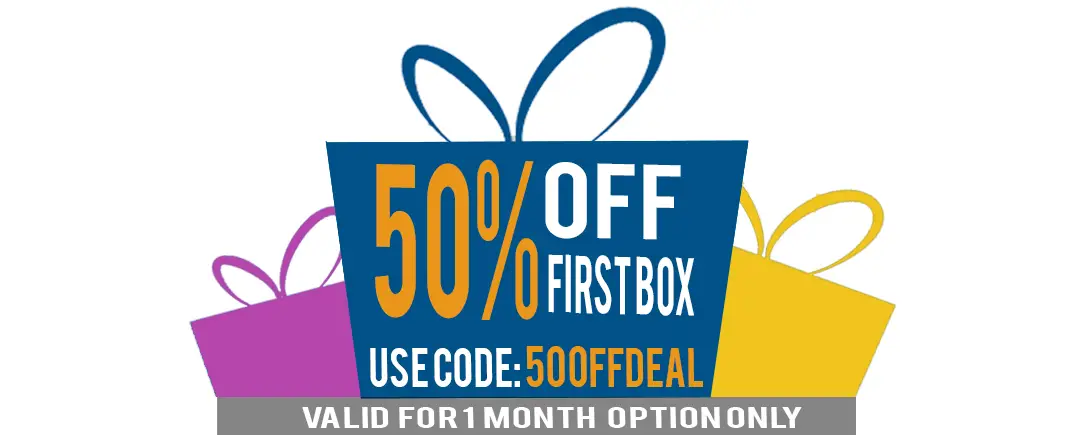 If anyone tries them out you'll have to stop by and let us know what you think!  Pooch Perks is one of the boxes we've been reviewing for awhile now and we've been having a lot of fun with them.  The company seems to be making a lot of positive changes too which is awesome.
We received our Pooch Perks box for free in exchange for our honest review.  As always, opinions expressed are our own and we strive to only share products we feel our audience will enjoy.  This post contains affiliate Amazon links.  To learn more, visit our Legal Stuff page.