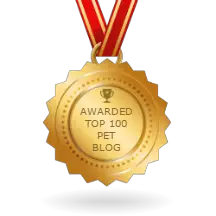 The Paw Pack and I were extremely honored to have recently been named one of the top 100 pet websites/blogs for pet lovers by Feedspot.  In case you want to look for us, we're currently listed at number 58.  The top 100 are indexed based on search and social media metrics, so that number is subject to change.  If you have some free time stop by Feedspot's site.  Fans of our site are bound to enjoy some of the other awesome pet sites featured on the list!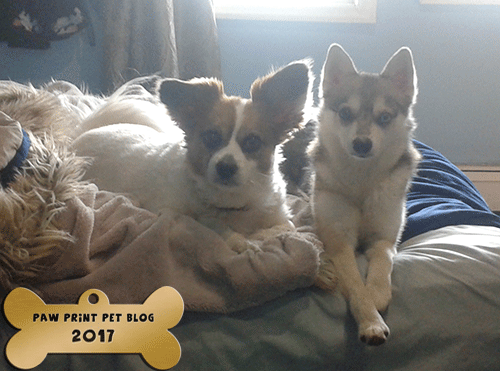 What better way to celebrate such an honor then to share some adorable dog pics!?
Spirits have been high here in the Paw Print house lately.  Work has been going well, Chris and I are slowly working on a project that will hopefully bring us an additional income stream sometime soon, and the weather has been amazing.  The dogs and I have been spending time almost every day at the park which means they are calmer and more relaxed around the house.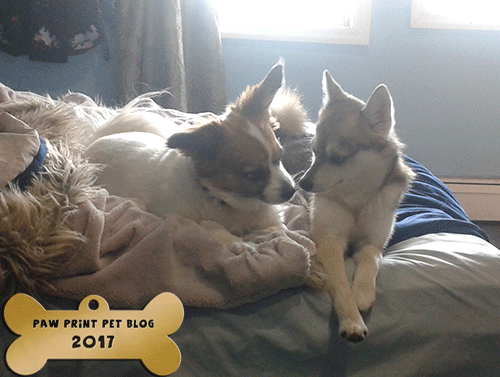 Chris and I are excited that some of that extra money we've been working hard for will be going towards a new car.  We live in the city, so don't really need a car to get around to places like stores, the vet, our local parks, etc.  Not having one for years now I'm sure has saved us quite a bit of money, but it does limit where we can travel especially since we have pets.  Soon we'll really be able to expand our adventure radius which I'm very much looking forward too.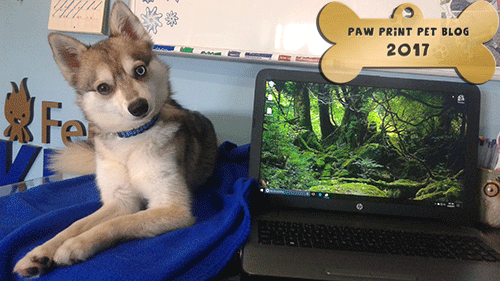 I don't mind all the extra hours I've been putting in at work because I have the cutest company ever.  Kit has a few favorite spots around the house where he likes to hang out while I'm working, but Fen's favorite spot 95% of the time is as close to me as he can get.  If you follow us on Instagram you've probably seen the pictures I share of him using my feet as pillows.  One day last week he kept wanting to lay on my desk, right next to my computer so that I could use one hand on my mouse and the other to pet him.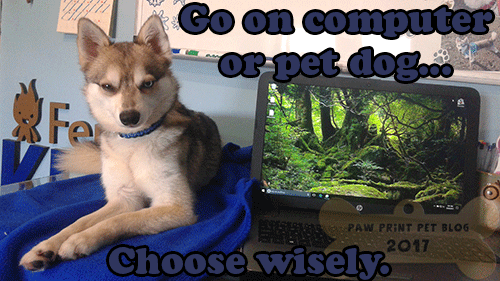 Letting him lay on my desk probably isn't the best habit to reinforce but being able to pet him while I was working was really helping to keep my stress levels down.
He can be such a brat sometimes but I really do adore my little Fen monster!
I'll try to post some new pics/a video of just Kit soon.  I don't want anyone to think he's getting neglected since my posts have been a bit Fen heavy lately.  Kit is doing amazingly well.  I've been taking him to the beach as often as I can, usually at least a few times a week, which he loves.  He doesn't like going in the water, but chasing the birds on the boardwalk and playing in the sand are some of his favorite things to do!
Anyways, this has been another one of my notoriously word filled wordless Wednesdays.  Thanks for reading, and to all our return readers/social media followers who helped us get onto Feedspot's top 100 pet sites list!