Easter can be a lot of fun, but can also present some dangers to our furry friends. Here are a few holiday safety tips, to ensure that every member of your family, even the ones with paws, enjoy this spring holiday!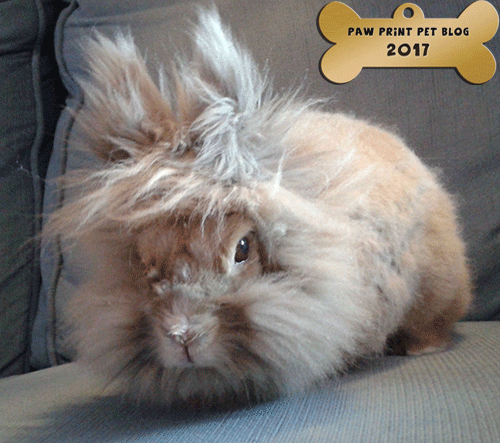 Please remember that any type of pet you bring into your house is a living, life long commitment. Rabbits, chicks, etc are sometimes given to children as Easter gifts on a whim, only to later find themselves dumped in shelters or worse, outside to fend for themselves. A cute fluffy bunny may look adorable in your child's basket on Easter morning, but healthy pet rabbits can live a typical life span of around 10 - 12 years and they are not the low maintenance, cuddly pet that many people assume them to be. If you have your heart set on bringing a new animal into your home, please make sure to do your research first. Consider adopting a homeless animal from a shelter rather than buying one from questionable sources. If in doubt, stick to giving chocolate or stuffed animals as holiday gifts. They can be just as cute as the real thing, without the responsibility.
Remember that chocolate and candy is not safe/healthy for pets. Keep all sweets out of their reach. Consider getting your pet a special treat of his/her own to celebrate the holiday.
Many types of flowers and plants included in holiday bouquets are poisonous to animals. You can view the ASPCA's list of toxic and nontoxic plants for a comprehensive list of plants that are toxic to cats, dogs, and horses. Keep in mind that many of these plants are also toxic to other types of pets such as reptiles, rabbits, etc. Just to be safe, keep all floral arrangements out of your pets reach.
Watch out for things like Easter decorations and plastic Easter basket grass. These types of things may look like fun new toys to a pet, but are not digestible and can cause issues such as choking or intestinal blockages if consumed by your pets.
With all the excitement of greeting guests, making new friends, and possibly trying out new foods, your pet is likely to work up quite a thirst! Always make sure to provide your pet with clean, fresh water.
Overfeeding your pet can cause upset stomachs, vomiting, and diarrhea. Feeding large amounts of fatty foods can be dangerous to pets. Pancreatitis is a painful and potentially dangerous condition that can be caused by a diet too high in fats. While a small amount of table scraps may be okay to offer your pet, don't overdo it. Advise any guests not to feed your pet, and always avoid foods high in fat, sweets, and cooked bones.
With all the food scraps being thrown out, your trash can is likely to be very tempting to your pet. Make sure your can is secured and pet proof.
To most people, keeping food out of their pets reach is common sense. But it's important to keep an eye on your drinks as well, especially if your drinking something potentially dangerous to pets such as alcohol.
The holidays can be stressful for humans and animals alike. Minimizing your pets stress level will go a long way towards making sure your pet is comfortable throughout the holiday season. Maintain your pets regular schedule as closely as possible. Give your pet a 'safe zone'; a place where they can go to escape the hustle and bustle of the holiday excitement if they need some time to relax. If you can, set aside a room in your house that is off limits to guests, so that your pet has a nice peaceful area it can retreat too if the need arises
If your pet is a cat or dog, or other uncaged pet, make sure they are wearing their collar and ID tags, and/or that they are micro-chipped. With guests going in and out of the house frequently, your pet may decide to take advantage of an open door. Make sure to tell your quests to be careful around the doors, and keep a careful eye on your pet so he/she doesn't attempt to make an escape.
If you are expecting guests for the holidays, make sure they treat your pet with respect. Be extra careful around children who may not know how to handle your pet properly. Inform all guests of your house rules regarding pets, including making sure they are aware of what holiday foods shouldn't be given as treats.
I hope everyone, humans and animals alike, have a safe and happy Easter!